Sorry for the lack of updates in the last few days... I had minimal connection to the internet, plus my last mani chipped the day I had put it on, before I could even take a picture, and I had no time to change it for three days, imagine such a thing! =D Anyway, today I really sat down for the sake of this manicure, and I think it turned out nicely. I know the name I've invented is totally lame, but I hope the mani makes it up for it =)
I started with two coats of China Glaze Metallic Muse. Actually one coat is enough, but I use Mavala Ridge Filler and it caused Metallic Muse to pull and left large gaps on the nails, which was very strange. So I did 2. Then I did a diagonal design on the tips with black polish, and stamped the tips with Metallic Muse & konad plate m73. Then I stamped the bottoms with konad special polish in black and plate m51.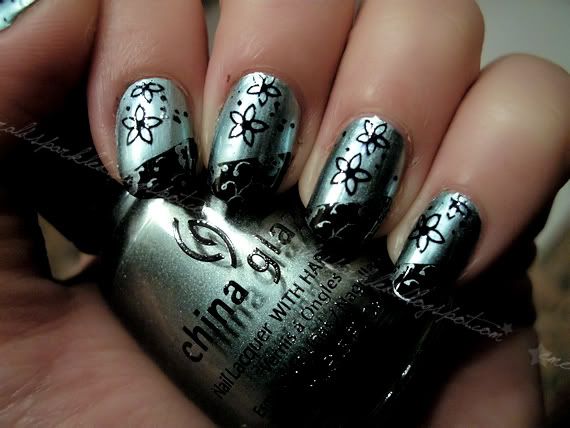 With flash:
I just adore the Khromes. They are so mirror like! I wish they were more forgiving, too, but they provide great coverage, which is such a huge plus for us konad lovers.
My right hand is the mirror version of my left. It came out pretty neat, too, I just forgot to take a picture of it.
When you do things like diagonal tips or generally freehand something, do you try to make them symmetrical, too? I know Konad is not to be applied symmetricaly, and honestly, I don't care, but I try to provide symmetry when I freehand something. =)