Hello everyone! This is my 200th post =) I thought this special post deserved a special manicure, so I took my time.
When I first saw
this manicure
at
Nails by Rachel Blog
, I went kinda crazy because they looked soo awesome to me! I've wanted to make my own version ever since. I was unsure how to paint roses that look realistic from a distance, but thank God, my boyfriend is an artist =) He taught me how to paint a realistic looking little rose and together we practiced a bit. Of course these roses are pretty amateur and I couldn't do them as nicely as he showed me, plus the topcoat blended everything together, but I think they suffice for now =)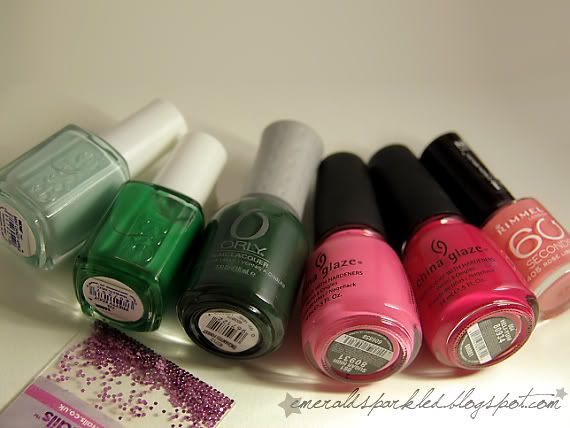 Here is everything I used.
From Left to Right:
Essie Mint Candy Apple
for the ring finger.
Essie Pretty Edgy
and
Orly Enchanted Forest
for the leaves.
China Glaze Sugar High
and
China Glaze Heli-Yum
for the roses. And finally,
Rimmel London Rose Libertine
for the base of all other nails. And round pink glitter for the... well, glitter =)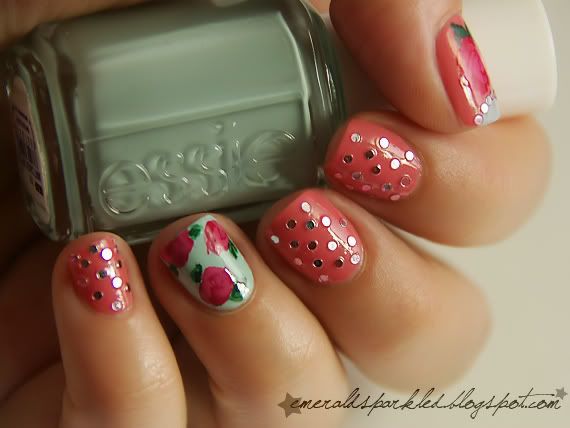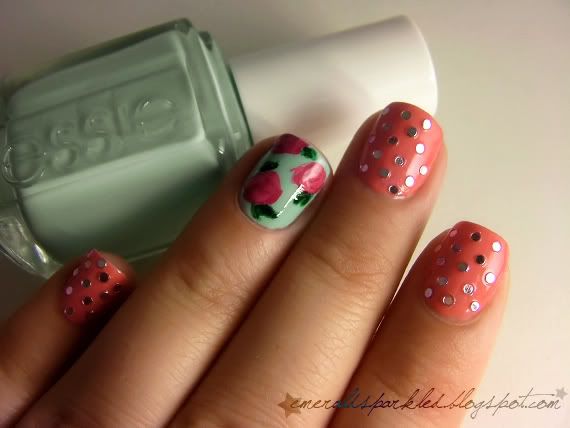 Thumb detail: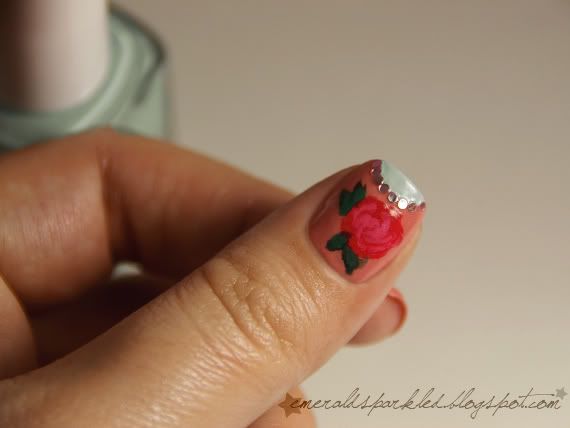 I did a reverse moon on my thumb. I think it looks interesting! =) I wish I used another base color for my thumb, though, because the rose is not as visible as I hoped.
Thank you for sticking with me for 200 posts! Love ya all! =)
Herkese merhaba =) Bu benim 200. yazım, bu yüzden özel bir manikür yapayım dedim.
Bu manikürü
Nails by Rachel
blogunda ilk gördüğümde resmen ağzım açık kaldı, çok çok beğendim. Tam benim tarzım olduğunu düşündüm ve o günden beri de yapmak istiyordum. Ancak belli bir mesafeden bakılığında gerçekçi görünmeleri için gülleri nasıl yapmam gerektiğini bilmiyordum. Neyse ki çok şanslıyım, çünkü erkek arkadaşım ressam =) Bana, küçük ama gerçekçi bir gülün nasıl yapılması gerektiğini gösterdi ve birlikte biraz çalıştık. Tabi benim güllerim biraz amatör ve onun bana gösterdiği kadar güzel yapamadım, ve cila da detayları biraz birbirine karıştırdı, ama bence sonuç kötü olmadı. =)
Kullandığım ürünler:
Yüzük parmağımda
Essie Mint Candy Apple
, yapraklar için
Essie Pretty Edgy
ve
Orly Enchanted Forest
, güller için
China Glaze Sugar High
ve
China Glaze Heli-Yum
, diğer bütün tırnaklar için de
Rimmel London Rose Libertine
. Son olarak, Viva La Nails'den gelen pembe pullar.
Baş parmağımda en altta başka bir oje kullansaydım gül daha çok belli olacaktı, ama neyse. Farklı bir versiyonunu yaparım belki daha sonra, bu biraz aceleye geldi =)
200 yazı boyunca benimle kaldığınız için teşekkürler!