As you can see, my camera is freaking out at how bright this color is. It looks different on the nail than it looks in the bottle, but that's because my camera fails to capture the neon effectively.
China Glaze Pool Party
is from their Summer 2010 Poolside collection. It's a red leaning neon pink, opaque in three coats and it's very,
very
bright. Indoors it looks like another reddish coral, but outdoors... My nails were on fire.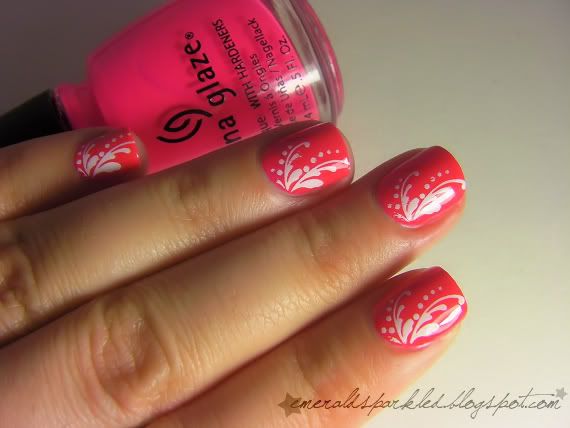 I stamped using the flourish pattern from BM04 and special polish in white.
Today I got Bad Fairy from the MAC store. It's crazy, the collection is not out till tomorrow and I was only able to get it because I was lucky. But everything is already marked as "sold out", especially Maleficient stuff.
I also got my 4th jar of Lemony Flutter today. I went through 3 jars in about 6 months. Mom thinks I'm secretly eating that stuff.
Bad Fairy is gorgeous! I can't wait to swatch it! =)
Gördüğünüz gibi, kameram neon pembenin aşırı parlaklığı karşısında kafayı yemiş durumda. Tırnakta şişedekinden farklıymış gibi gözüküyor, ama alakası yok. Neon renkler, farklı yoğunluklarda ışığı faklı yansıttıkları için kamerada bu şekilde gözüküyor.
China Glaze Pool Party, 2010 Yaz koleksiyonundan. Kırmızıya çalan bir neon pembe, 3 katta opak oluyor ve çok çok parlak bir renk. Evin içinde parlak bir mercan rengi gibi duruyor, ama sokağa çıkar çıkmaz... Bu kapalı havada bile gözü alıyor, sanki ateş gibi.
Üzerine beyaz konad ojesi ve BM04 diskini kullanarak desen yaptım.
Bu arada bugün MAC'ten Bad Fairy isimli ojeyi aldım. Aslında koleksiyon yarın satışa çıkıyor ama ben biraz şanslıydım sanırım. Elinizi çabuk tutun, herşey bu akşamdan tükenmeye başlamış, millet deliler gibi ayırtıyor ürünleri. Bir mağazaya gitmeden önce mutlaka telefon edip ayırtın alacağınız şeyi, boşu boşuna gezmeyin derim. Özellikle Maleficient ürünleri şimdiden neredeyse bitmiş durumda.
Bu arada 6 ayda 3 kavanoz Lemony Flutter bitirdim ve bugün dördüncüyü aldım. Annem gizli gizli LF yediğimi düşünüyor sanırım =)
Bad Fairy inanılmaz güzel, göstermek için sabırsızlanıyorum =)