The reason why I don't update with nail pictures as often: I have a funny blister at one side of one of my nails on my rarely seen right hand. The nail cuts right into the blister, which makes it bleed and ache. The blister is very very tiny. I'm actually more amused than annoyed. Never seen anything like it before! I'm sure it will be gone in a few days, I just don't wanna touch acetone right now. I might even be running around with chipped nail polish for the following days. Gasp! Horror!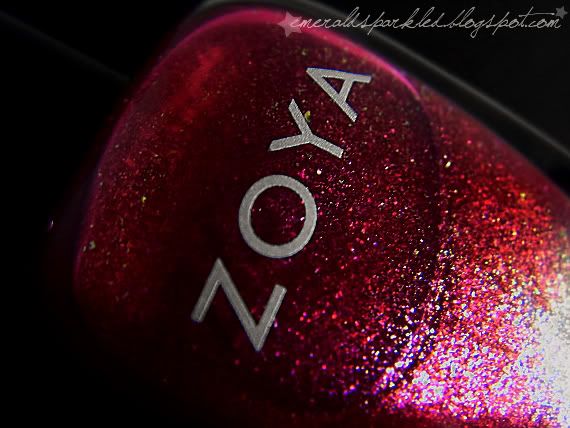 Right now I have
Zoya Alegra
on my nails, from Zoya's Sparkle collection. As most of my pinks are creams or pearly shimmers, this one might just be the richest, most glamorous and beautiful pink polish I own. It's a reddish magenta with lots of magenta and pink shimmer. In the bottle you can even see a gold duochrome, but it's not apparent on the nail. This is such a feminine and sexy polish. I adore it. I want a room filled with polishes of this particular finish. I think it's my favorite finish ever. I love the foily looking, duochrome, flecked/sparkly goodness. See, I can't find the words to describe.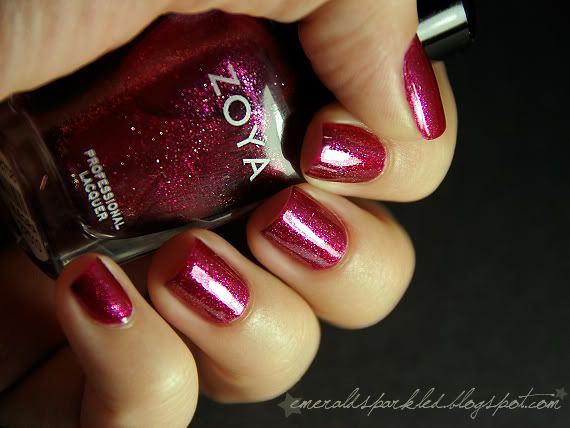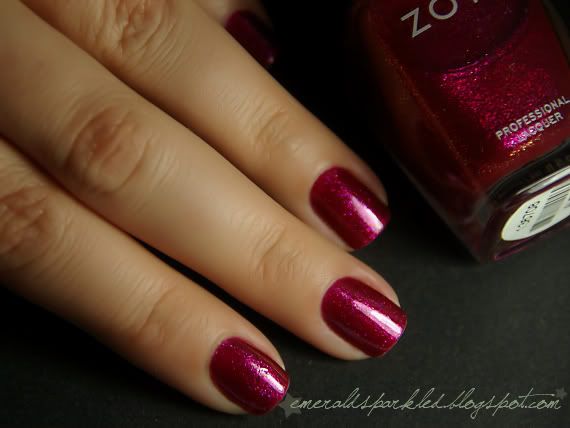 I can eat a bowl of this polish for breakfast. I love it that much.
P.S:
This polish was gifted to me by
Liz
. Thank you so much, Liz, love you! =)
Tırnaklarımın birinin kenarında küçük bir kabarcık oluştu. Tırnak oraya battıkça kanıyor. Çok küçük olduğu için önemsemiyorum, birkaç güne kadar geçer herhalde. Zaten sinir olmaktan çok komik buldum bu durumu. Daha önce hiç böyle birşey başıma gelmemişti. Ağrısı olmasa keşke, şu an aseton kullanmak hiç içimden gelmiyor, önümüzdeki birkaç gün boyunca soyulmuş tırnaklarla gezmeyi bile göze aldım, ki bunun ne demek olduğunu ojeseverler bilir =)
Bugün tırnağımdaki oje, Zoya Alegra. Genellikle pembe ojelerim krem yapıda ya da sedefli olduğu için, bu oje sanırım sahip olduğum en güzel, en çarpıcı pembe oje. Kırmızıya çalan bir pembe ve içinde bol miktarda pembe, cam kırığı gibi ışıltı var. Simli denemez bu bitişe, zaten yüzeyi düzgün kuruyor ve kolay çıkıyor. Bu bitiş sanırım benim ojeler arasında en sevdiğim bitiş, ki krem yapıda ojeleri bile tahtından indirdi bence. İyi ki önce Zoya, sonra Orly bu tarz ojeler yapmaya başladı.
Ben bu ojeyi çok çok seviyorum. Sürmeye kıyamıyorum. Ekim ayı hatrına sürdüm şimdi, bundan sonra daha özel ya da mutlu olmaya ihtiyacım olan günlerde atık =)