Thanks to Sideral, I'm happy to inform that these polishes are available internationally. You can find them here: http://beautycosmetic.biz. The shipping costs are pretty low, and the polishes cost $1.60 each! Looks like they carry the whole line but please e-mail them for polishes #800 and up =)
NOTE: Sideral just informed me that she doesn't recommend http://beautycosmetic.biz anymore, because they package the items carelessly, and some bottles arrive broken which they don't want to replace. Therefore I must warn you, please shop from this site at your own risk. I know the holographic polishes are cheap and pretty, but apparently there is a downside of every good thing =/
SECOND NOTE: Seems like http://beautycosmetic.biz finally started to package items carefully, with bubblewraps and everything =) Newly ordered CA polishes started to arrive their new homes intact! So, my last message so far will be I approve!
Guys, I'm very excited to show you these polishes made of awesome! I couldn't believe my eyes when I first saw
this post
by
Betul's Dreams
, holographic polishes by a Turkish brand that look almost like China Glaze Kaleidoscope polishes! I immediately wanted to know where I can get them, and exactly how many holo polishes from Catherine Arley were in existence. I found a Turkish seller that sold CA polishes, and I asked her if she carried any holographic polishes from that line. She told me they were 20 holographic polishes from Catherine Arley in total, so I ordered the whole line! =) I got them for about $1.30 each. Today I received the lot, and I'm beyond myself with excitement, finally holographic polishes with a holo effect so strong that my camera can capture!
The polishes are
0.5 fl. oz. (14 ml)
, and they're
hypoallergenic
and
Big 3 Free
.
This is going to be a very long post with loads of pictures, but you're free to TL;DR =)
NOTE:
Before going on with the bottle pics & swatches, I have to tell you guys that I would really love to help my international friends to get their hands on these polishes, but unfortunately, Turkish Post no longer accepts any sort of liquid cosmetics, including nail polish. We can receive polishes, but we can't send them abroad; because they say there is risk of breakage and leakage. That's the reason I can't answer to any swap or help request, because I'm unable to do so. I hope you understand =)
First of all, here are the bottle pictures, with my trying-to-be-accurate descriptions =)
#673: Dark reddish purple with a subtle holo effect.
#672: Mauve with a fuchsia flash, subtle holo effect.
#677: Cranberry red with a very subtle holo effect. This one disappointed me a bit, but it's still holo, definitely not plain. Maybe it will come alive under the sun.
#800: Strawberry red with a strong holo effect. This is one of my favorites. Although I own some holographic polishes, there is nothing like this in my stash.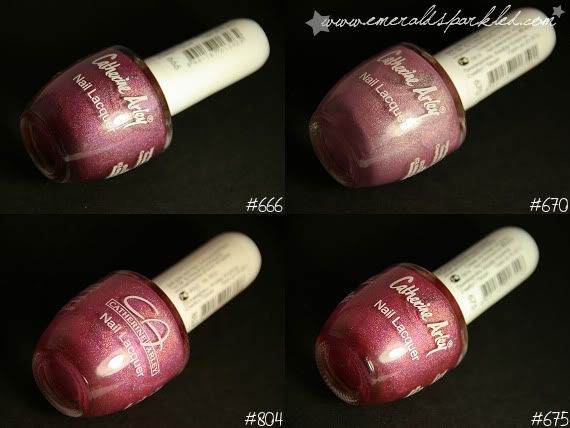 #666: Cool dark pink with a moderate holo effect.
#670: Pale cool pink with a strong holo effect.
#804: Warm pink with a cool pink flash, moderate holo effect.
#675: Warm pink with a strong holo effect.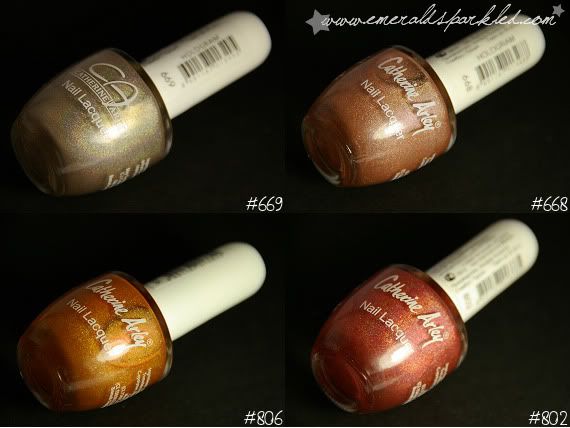 #669: Golden beige with a strong holo effect.
#668: Tan with a subtle holo effect.
#806: Orange with a subtle holo effect. This one has a bad consistency, I hope I can tame it. It has got some metallic mixed inside, which dulls the holo effect a bit.
#802: Amber with a strong holo effect. Adorable. Just amazing. Another favorite.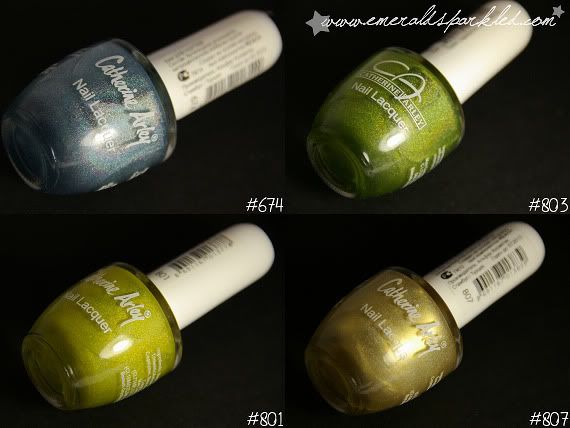 #674: Baby blue with a strong holo effect. This one is amazing! =)
#803: Chartreuse with a strong holo effect. I love this, I own nothing like this either.
#801: Bright lime green with a moderate holo effect. The holo is actually strong in this one, but the color is so bright, it hardly shows.
#807: Gold with no holo effect. This one is disastrous. It's gold metallic with holo pieces thrown inside, which never show. The consistency is horrible, too. No need to say, my least favorite =)
#805: Black with moderate holo effect. Oh my God, somebody hold me. Maybe not crazy holographic, but it's definitely there. Another favorite =)
#667: Charcoal grey with strong holo effect.
#676: Silver with strong holo effect. Or should I say "crazy"? This is what I have on my nails right now.
#671: Last but not least, taupe-leaning silver with a blue flash, strong holo effect. Interesting polish, I really like it.
I know you want to see some swatches, so I swatched everything on a nail wheel. All two coats, they cover very well. Please excuse the messy swatching =) In numerical order: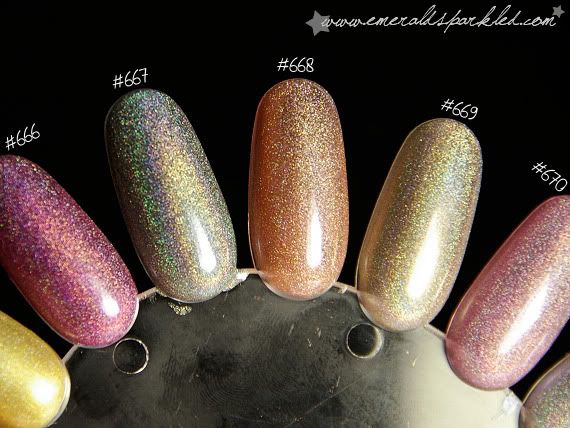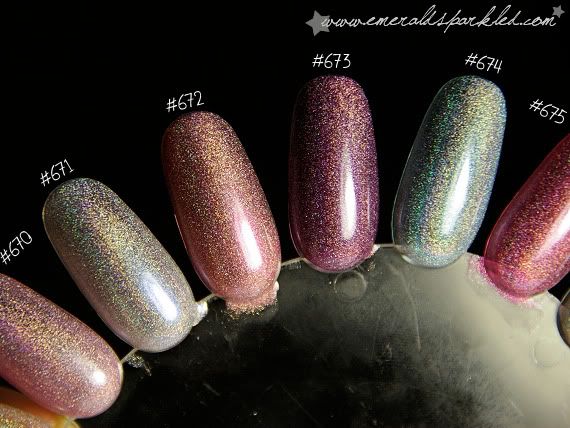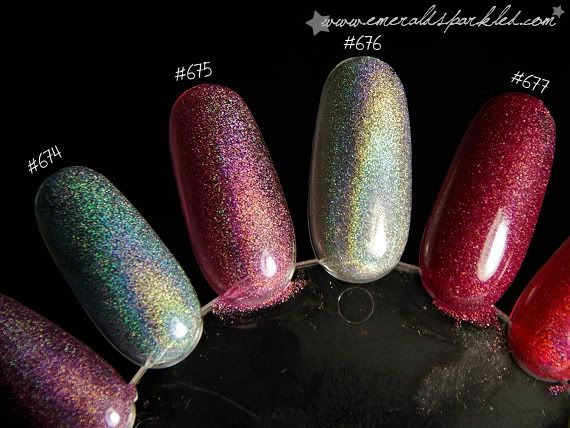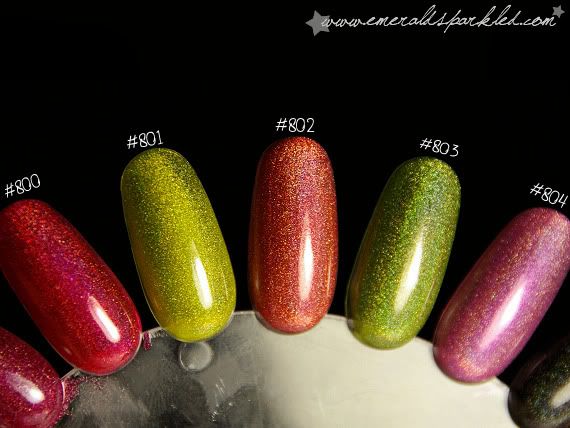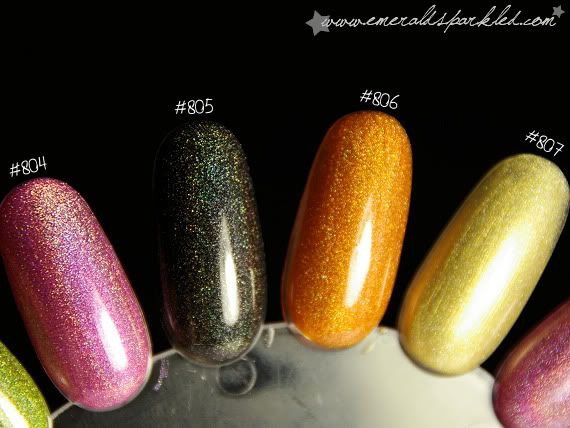 Finally, here is #676 swatched on my nails, two coats, no basecoat, no topcoat: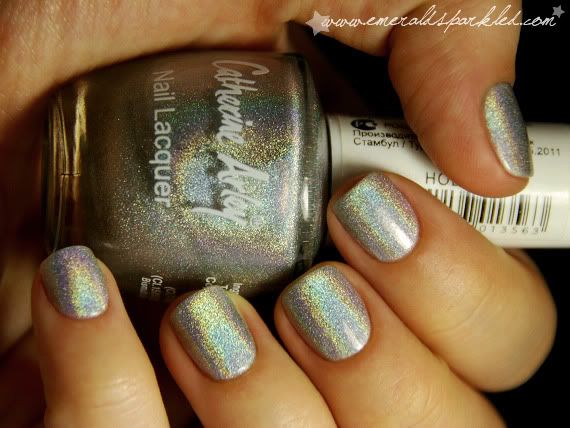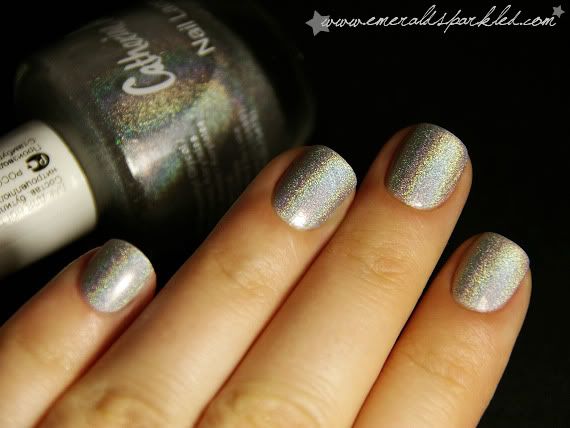 Doesn't it look like wrapping paper? Or rainbows and butterflies? Can you hear the angels sing like I do? Excuse my excitement, I just can't get over the fact that I have some freaking true holographic polishes! =D Now I just need the Tronica Collection, and that's all! =P
Bugün sizlere bu ojeleri gösterebildiğim için çok mutluyum. Sanırım hayallerim gerçek oldu.
Betül'ün blogunda
gördüğümde gözlerime inanamadım, Catherine Arley holografik ojeler neredeyse China Glaze Kaleidoscope koleksiyonu ojeleri kadar harika gözüküyordu! Ben de bu ojeleri nerede bulabileceğimi, toplam kaç tane olduklarını ve ne gibi renkler olduğunu araştırmaya başladım, ve tamı tamına 20 holografik oje olduğunu gördüm. Tanesi 2 TL, ben de hepsini satın aldım. Kargo bugün elime geçti ve inanılmaz mutlu oldum, çünkü Booty ojelerden farklı olarak holografik etki çok daha kuvvetli, kameralarım hiç zorlanmadan yakalıyor, hele bir de tırnağınızda görseniz, mükemmel =)
Ojeler
14 ml
,
hipoalerjenik
ve
Formaldehit, Toluen, Dibutil Pitalen içermiyor
.
Biraz uzun bir yazı olacak, kusura bakmayın.
NOT:
Yurt dışında yaşayan arkadaşlarım, sizlere bazen beğendiğiniz ojeleri gönderme konusunda yardım etmeyi çok istiyorum. Eskiden bunu yapabiliyordum ama son zamanlarda PTT kargoya kesinlikle oje kabul etmemeye başladı. Ben de bu yüzden bu konuda yardımcı olamıyorum, bu yüzden şimdiden özür dilerim.
Öncelikle, şişelerin resimleri ve benim renk tanımlarım:
Mor ve Kırmızılar:
#673: Mürdüm rengi, holo etkisi az.
#672: Gül kurusu, pembe flaş etkisi var. Holo etkisi orta karar.
#677: Koyu kırmızı, holo etkisi oldukça az, ama yok değil. Güneş altında daha belirgin olacağına inanıyorum.
#800: Çilek kırmızısı, holo etkisi güçlü. Favorilerimden biri.
Pembeler:
#666: Soğuk tonlu koyu pembe, holo etkisi orta karar.
#670: Solgun pembe, holo etkisi güçlü.
#804: Sıcak pembe, pembe flaş etkisi var. Holo etkisi orta karar.
#675: Sıcak pembe, holo etkisi güçlü.
Turuncular:
#669: Altın rengine çalan bej, holo etkisi güçlü.
#668: Bu renge ne denir, koyu ten rengi mi? Holo etkisi az.
#806: Turuncu, holo etkisi az. Bu ojenin yapısı çok akışkan, aynı zamanda yoğun. Umarım adam edebilirim. Sanırım biraz metalik etki var içinde, bu da holo görüntüsünü biraz azaltıyor.
#802: Taba rengi. Hasta oldum buna. Favorilerimden.
Mavi ve Yeşiller:
#674: Bebek mavisi, holo etkisi güçlü. Şahane gözüküyor =)
#803: Sarıya bakan koyu yeşil, holo etkisi güçlü. Buna da bayıldım.
#801: Parlak lim yeşili, holo etkisi orta karar. Aslında güçlü ama renk o kadar parlak ki, fazla anlaşılmıyor.
#807: Altın rengi, holo etkisi yok. Bu oje tam bir hayal kırıklığıydı. Altın rengi metalik, içinde holo parçacıklar var eminim ama hiçbir etkisi yok ojeye. Kıvamından hiç bahsetmeyeyim. Tek beklentimi karşılamayan oje buydu =)
Griler:
#805: Siyah, holo etkisi orta karar. Aman Allahım, çok çok güzel. Çok istiyordum siyah holografi oje. Belki etki çok güçlü değil, ama kesinlikle belli oluyor, bu yüzden favorilerimden =)
#667: Kurşuni gri, holo etkisi güçlü.
#676: Gümüş rengi, holo etkisi güçlü. Yoksa holo etkisi deli gibi mi demeliydim? Tırnağımda bu var şu anda.
#671: Son olarak, bej rengine çalan gümüş, mavi flaş etkisine sahip, holo etkisi güçlü. Çok ilginç bir oje, ben çok beğendim.
Tüm ojeleri tırnak çemberine sürdüm, hepsi iki kat, numara sırasına göre gidiyor. Son olarak tırnaklarımda #676 gümüş rengini görebilirsiniz, altında baz yok, üstünde cila da yok, iki kat sürdüm. Janjanlı paket kağıtlarına benziyor, değil mi? =)