Hey guys =) Thursday evening, us four Turkish nail bloggers met and had so much fun. We ate, laughed and talked about so many things. I even painted some nails & drew things with acrylic paint!
Clockwise from top:
Youknow
(black nail polish with pink acrylic paint petals and glitter on top),
Zuzu
(Flor Mar #398), me (Nubar Indigo Illusion and rhinestone arrangements on top), and
Nemo
(Essie Going Incognito)
I did my friend
Youknow
's nails, you can see a better picture here: (courtesy of her)
Click on the picture to see her post with more pictures! (Opens in new window.)
I used acrylic paint from
Born Pretty Store
and drew the petals using a thin brush. Then she used glitter similar to China Glaze Techno to amp it up a bit =) This manicure was inspired of
this manicure
by Ophelie.
This is
Zuzu
's manicure, I drew random doodles on her nails with yellow acrylic paint: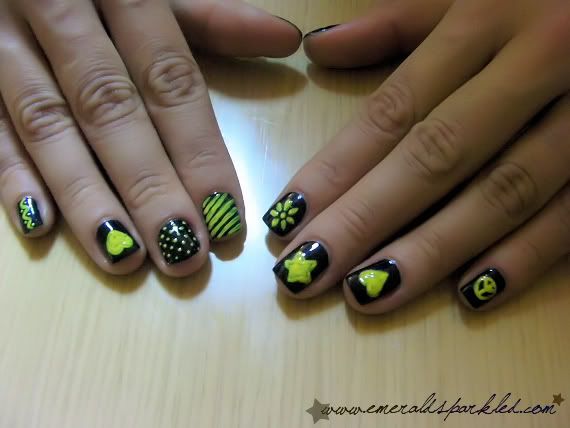 Finally, here is my own manicure,
Nubar Indigo Illusion
with rhinestones on top.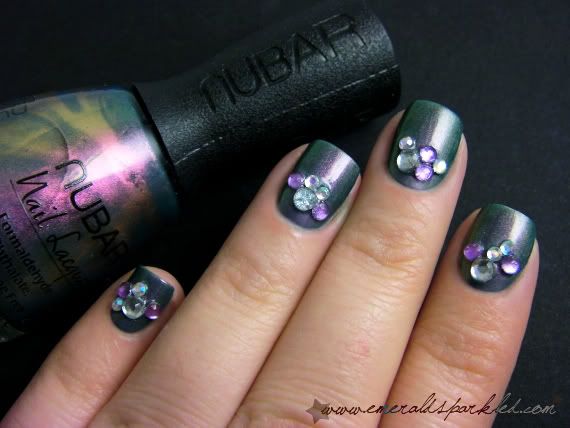 By the way, one of my nails was torn so badly, (almost halfway across the nailbed) that I felt like I had to wear some artificial nails while it grows out a bit. I will post about my artificial nails very soon =)
Perşembe akşamı 4 Türk tırnak blog yazarı olarak buluştuk. Çok güzel bir akşamdı; bol bol yedik, güldük, konuştuk =) Oje sürüp desen bile yaptım üstelik!
Resimde
saat yönünde yukarıdan aşağıya:
Youknow
,
Zuzu
, ben ve
Nemo
var. Youknow'un tırnaklarına siyah oje üzerine akrilikle pembe çiçekler çizdim. Ortalarında da taş var, birazcık da sim sürdük. Zuzu'nun tırnaklarında Flor Mar #398 var, bu resim çekildikten sonra sarı akrilik boya ile çeşitli şekiller yaptım. Öykü de fanatik Galatasaraylı olduğu için, yolu buralara düşerse ona sarı kırmızı yapacağım bundan =))) Benim tırnaklarımda Nubar Indigo Illusion üzerine çeşitli taşlar var, son olarak Nemo'da Essie Going Incognito var, desensiz. Vakit olsaydı da ona da birşeyler çizseydim keşke...
Bu arada inanılmaz kötü bir tırnak kazası yaşadım, bir tırnağım neredeyse yarısından itibaren yırtıldı yatay olarak =/ Bu yüzden o tırnak biraz kendine gelene kadar bari takma tırnak takayım dedim. Takma tırnaklarımı gösteren yazım çok yakında =)