I did this manicure on Sunday morning, but I lost the SD card in my room, so it's kinda late.
I'm really, really sad about Amy Winehouse passing away. I really liked her, musically and personally. I was aware that she was tumbling down really fast, and I always wanted to think there was some hope for this beautiful, lonely girl. I kinda knew that the bitter end was closing by, but the sad news still hit me like a truck.
Here is my tribute for her. Thumb is her head, with her signature beehive hairdo with roses, and one eye with heavy eyeliner. Index is
Zoya Valerie
, because of her song, Valerie. Middle is black with some golden music notes, thanks to her music of pure gold. Ring is some black roses with thorns, beautiful and (self) destructive, just like Amy herself. And pinky is
Orly Glitz & Glamour
, because her music made me live that era.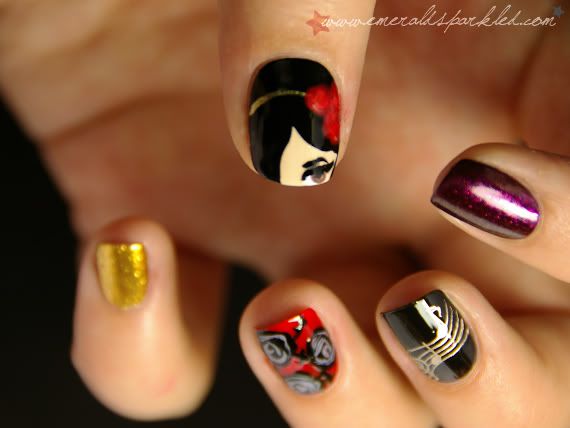 A Tribute to Amy Winehouse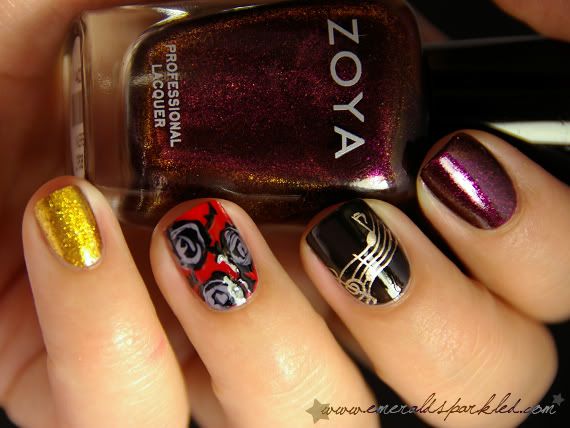 A Tribute to Amy Winehouse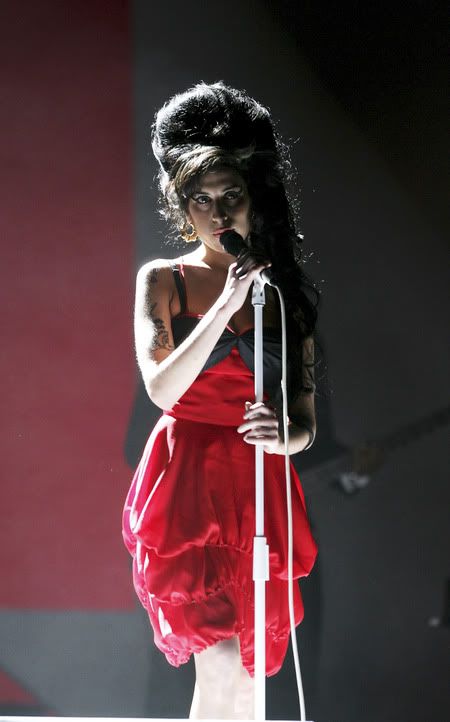 R.I.P.
Amy Jade Winehouse
1983 - 2011
Bu manikürü pazar sabahı yapmıştım, ama SD kartı odamın içinde kaybettiğim için yayınlamakta geciktim.
Amy Winehouse öldüğü için gerçekten çok, çok üzgünüm. Hem kendisini hem de yaptığı müziği çok beğeniyordum. Çok hızlı ve geri dönüşsüz bir düşüş içinde olduğunun farkındaydım, ama her zaman bu güzel ve yalnız kız için bir umut olmasını diledim. Son zamanlarda acı sonun yaklaştığı duyulan her kötü haberde kendini belli ediyordu, buna rağmen her ölüm gibi erken ve ani oldu önümü, ve beni kamyon çarpmış gibi sersemletti.
Bu manikürle Amy Winehouse'u anmaya karar verdim. Baş parmağıma kafasını ve yüzünü çizdim, kendisiyle özdeşleşmiş olan saç stili ve eye liner'lı tek gözü ile. İşaret parmağımda Zoya Valerie var, Valerie'nin anısına. Orta parmakta siyah üzerine altın notalar var, altın gibi müziğine teşekkür etmek için. Yüzük parmakta siyah güller ve dikenler var, tıpkı Amy gibi güzel ama başkalarına ve kendine zararlı. Son olarak serçe parmakta Orly Glitz & Glamour var, müziğiyle beni o hiç yaşamadığım altın çağlara götürdüğü için.