Today I discovered something very interesting. I wanted to wear
NOX Twilight Poseidon
, which is a bright, turquoise leaning medium blue. You might remember
my review from last year
, which clearly depicts how bright and saturated the polish is. Here is a swatch from last year's post: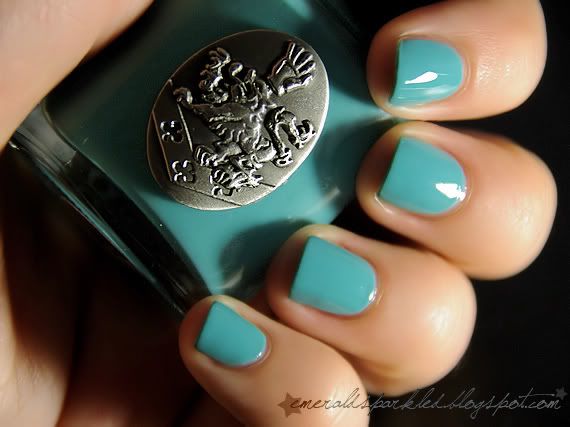 NOX Twilight Poseidon, when I first received it
Here is another picture which shows a comparison of
Poseidon
and
China Glaze Flyin' High
: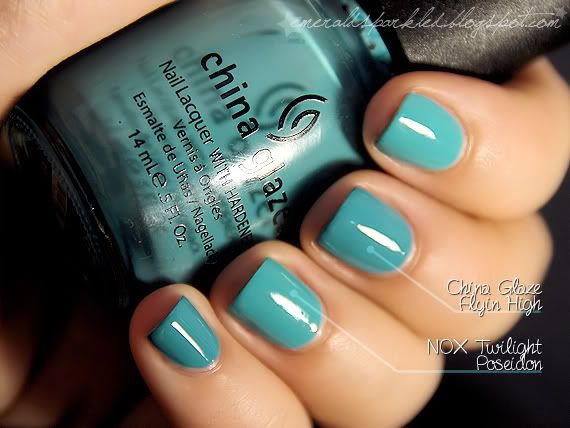 NOX Twilight Poseidon, when I first received it
They are no dupes, but they're very similar, at least in the same territory. Let's keep that in mind.
When I reached for Poseidon in my drawer today, I was really shocked and confused, because it was clearly different than what I remembered. I mean so clearly, that it was a completely different polish now!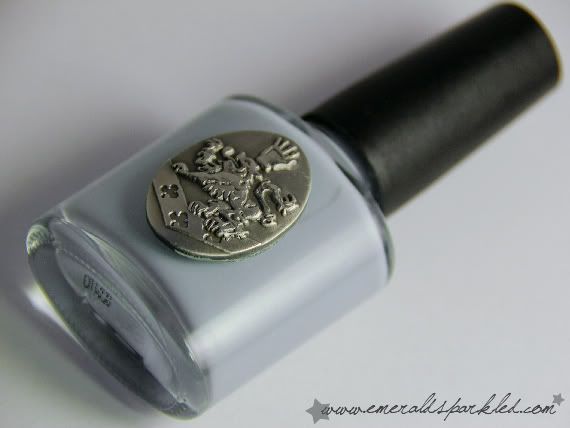 NOX Twilight Poseidon, after a year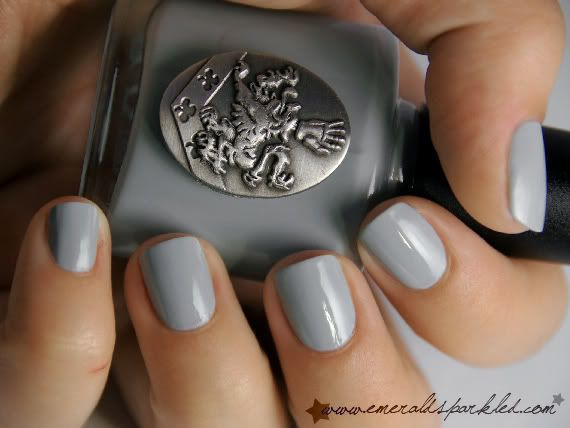 NOX Twilight Poseidon, after a year
I almost couldn't believe my eyes for about five minutes. First I shook the bottle violently, but I already knew that the pigments have faded and the original color wouldn't be restored. I never experienced anything like that before. The other NOX Twilight polishes are just fine, it's only the poor Poseidon that decided to wither.
I've been seeing different versions of Poseidon around, but I always thought it was intentional. Now I'm sure there is an issue with the blue pigment, and all of those versions of Poseidon around are just at different degrees of fading process.
The new Poseidon is gorgeous at its own, it's an exact dupe of
China Glaze Sea Spray
, just without the shimmer. But I'm really missing the original color, because I didn't have any dupes for it and I loved that polish...
Has anything like this ever happened to you? Let me know what you think!
Bugün çok ilginç birşey keşfettim. Daha önce başıma hiç böyle birşey gelmemişti. Canım bugün
NOX Twilight Poseidon
'u sürmek istedi, hatırlarsanız geçen yıl tanıtımını yapmıştım,
buradan okuyabilirsiniz
. Ojenin rengi turkuaza çalan parlak bir maviydi, tam yaz mavisi yani. İdi diyorum, çünkü artık değil. Öncelikle geçen sene çektiğim resimleri göstermek istiyorum. Aynısı olmasa bile rengi
China Glaze Flyin' High
gibi, biraz daha açığı sadece.
Bugün ise çekmeceden ojeyi aldığım anda dumura uğradım desem yeridir. Çünkü ojeyi resmen tanıyamadım, hatta kim bunu gelip çekmeceme koydu diye düşündüm. Etiketini görmeseydim inanmayacaktım. Oje bambaşka bir renge dönüşmüştü!
İlk verdiğim tepki ojeyi çalkalamak oldu, ama içten içe bunun işe yaramayacağını, kalıcı bir şekilde rengin değişmiş olduğunu biliyordum. Ojenin rengi hem solmuş, hem de açılmış.
China Glaze Sea Spray
'in sedefsiz versiyonunu düşünün, hatta Pastel en son bu renkte bir oje çıkardı. Resmen o renk olmuş, yani aşırı soluk, griye çok yakın bir bebek mavisi.
İşin garibi diğer NOX Twilight ojeleri ilk günkü gibi duruyor, olan sadece zavallı Poseidon'a olmuş. Ben bu halini de beğendim ama eski halinin eşi yoktu bende, bu yüzden üzülüyorum keşke böyle birşey olmasaydı diye...
Birkaç kişide Poseidon'un yeni versiyonu adı altında bu renge yakın hallerini görmüştüm, ama sadece ojeyi değiştirdiklerini sanmıştım. Meğer onlar da solmanın çeşitli aşamalarındaki halleriymiş, sorun büyük ihtimalle kullandıkları pigmentte. Çok ilginç gerçekten...
Hiç başınıza böyle birşey geldi mi?