I was actually meaning to show you the polishes I've hauled in the last weeks, but it feels useless and stupid as about 10 million people are suffering from drought in East Africa and about 50 children are dying each day of malnutrition, dehydration and diseases. Me and my family are going to donate here
http://www.unicef.org.uk/landing-pages/hornofafricaweb/
and I suggest you to do the same, donate somewhere you think will help the affected people most effectively. Just think about it as a fall collection not purchased in time. This crisis needs swift action. Even 10$ could provide water supply, vaccination or enriched food to help the malnourished children; because there is no such thing as too few when it comes to help...
Here are some local brand polishes I hauled in the past weeks, from brands Pastel, Gabrini and Flor Mar. They have all come up with unique, summer appropriate colors I haven't seen Turkish brands coming up with before. First of all, these are
Gabrini Summer Edition
polishes. The last two are from their Elegant line, but I included them, too.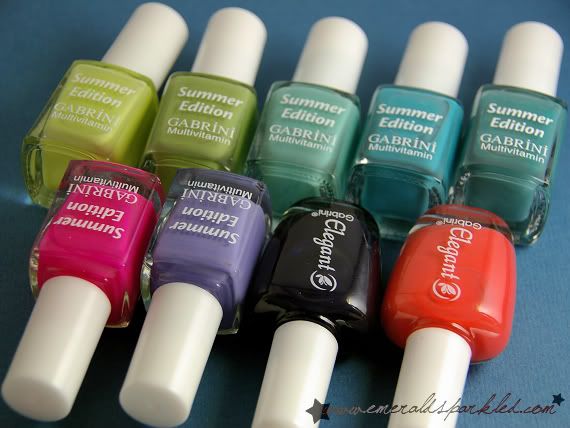 Top row, L-R: M101, M105, M107, M106, M108
Bottom row, L-R: M116, M109, 371, 387
I really like 371, it's the darkest navy polish I've ever seen, it feels like ink on the nails =)
Next up there are
Pastel
polishes:
Top row, L-R: 308, 77, 06, 123, 84, 09
Bottom row, L-R: 86, 310, 70, 55, 82, 81
I should note that 308 is a dupe for Chanel Mimosa.
Finally, here are some
Flor Mar
polishes I bought yesterday:
L-R: 429, 430, 423, 431
Here is a colorful, summery skittle manicure I've come up with while swatching these polishes.
Summery Skittles
Summery Skittles
Thumb is
Flor Mar #431
, index is
Flor Mar #429
, Middle is
Pastel #70
, Ring is
Gabrini M101
and Pinky is
Gabrini M107
. I stamped the pink grapefruit image from m55 using Konad Special Polish in pink, and the fish on my thumb from m82 using Konad Special Polish in white.
I'm going to bed now, good night =)
Aslında son birkaç haftadır aldığım ojeleri göstermek istiyordum, ama sonra sadece bunu yapmanın çok saçma olacağına karar verdim. Doğu Afrika'da olan felaket beni çok etkiliyor. Her gün 50 çocuk son 60 yılın en büyük kuraklığı yüzünden açlık, susuzluk, sıcak ve hastalık sebebiyle ölürken burada sadece ojeden bahsetmek çok vicdansızca ve boş geliyor bana. Bu yüzden ben ve ailem olarak şuraya bağış yapmayı düşünüyoruz:
http://www.unicef.org.uk/landing-pages/hornofafricaweb/
ve ben de sizden bir keyfi ihtiyaç parasını kısıp, güvendiğiniz ve inandığınız bir kuruluş üzerinden bağış yapmanızı öneriyorum. Varsın bir tişört, bir oje, bir öğlen yemeği eksik olsun. Bu krizin biran önce bizim yardımımıza ihtiyacı var. Dünyanın bizim kadar yaşamaya elverişli olmayan bir bölgesinde doğmuş oldukları için "ne halleri varsa görsünler" düşüncesiyle gözümüzü kapamak, vicdansızlığa ortak olmak olur. Bir 20 liralık bağış bile çocuklar için temiz su kaynağı demek, beslenme demek, aşı demek. Yardımın ufağı olmaz, bu yüzden herkesi büyük küçük diye düşünmeden elinden geldiği kadar yardıma çağırıyorum.
Bu ağır konudan sonra istemeyerek de olsa biraz ojelerden bahsedeyim. Son zamanlarda Gabrini, Pastel ve Flor Mar adeta birbiriyle yarışırcasına daha önce görmediğimiz güzellikte ojeler çıkardı. Alix Avien de oje çıkardı ama henüz bulmak kısmet olmadığı için o konuda bir yorum yapamıyorum şu an. Öncelikle
Gabrini Summer Edition
ojelerini göstereyim. Resimdeki son iki oje Elegant serisinden, ama ben onları da dahil ettim.
Üst sıra, soldan sağa: M101, M105, M107, M106, M108
Alt sıra, soldan sağa: L-R: M116, M109, 371, 387
371 çok değişik bir oje, gördüğüm en koyu lacivert sanırım. Siyah olmadan önceki son lacivert, tırnaklarda mürekkep gibi duruyor çok tatlı =)
Bir sonraki resimde
Pastel
'in ojeleri var:
Üst sıra, soldan sağa: 308, 77, 06, 123, 84, 09
Alt sıra, soldan sağa: 86, 310, 70, 55, 82, 81
Bu arada 308 Chanel Mimosa'nın neredeyse aynısı.
Son olarak dün bulduğum bazı
Flor Mar
ojeler:
Soldan sağa: 429, 430, 423, 431
Bu ojelerden bazılarını kullanarak renkli, yazlık bir manikür yaptım. Baş parmakta
Flor Mar #431
, işaret parmağında
Flor Mar #429
, orta parmakta
Pastel #70
, yüzük parmağında
Gabrini M101
ve serçe parmakta
Gabrini M107
var. Yüzük parmağıma m55 diskindeki portakal desenini konad pembe ojesi ile damgaladım, pembe greyfurt çok severim de =) Baş parmağımda ise m82 diskindeki balıklar var, konad beyaz ojesi ile damgaladım.
Ben yatayım, hepinize iyi geceler =)