I'm finding it hard to concentrate right now, because one of my ears is aching badly. My ear canal is swollen and I'm treating it with antibiotics and by applying olive oil topically. This is going to be a quick post before going to bed.
I had this manicure in mind for some time now, and today I decided to do it. I started with
Golden Rose Care & Strong #182
as my base coat. Then, using a fine brush, I drew the cones and finally the ice cream on top using my dotting tool. I used a variety of polishes for the ice creams;
American Apparel Trenchcoat
and
California Trooper
for the cones,
Konad Pastel Purple
for the ice cream, and various polishes for the sprinkles.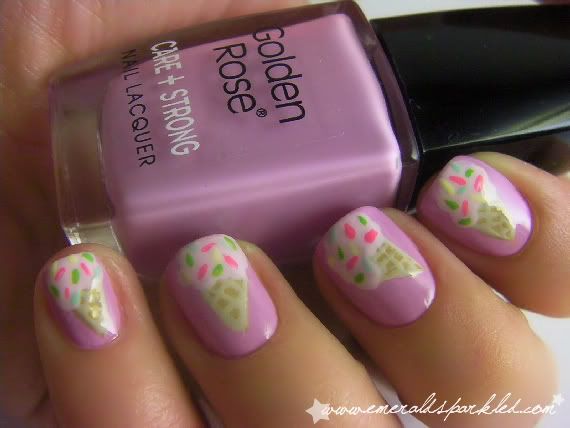 Hand Drawn Ice Creams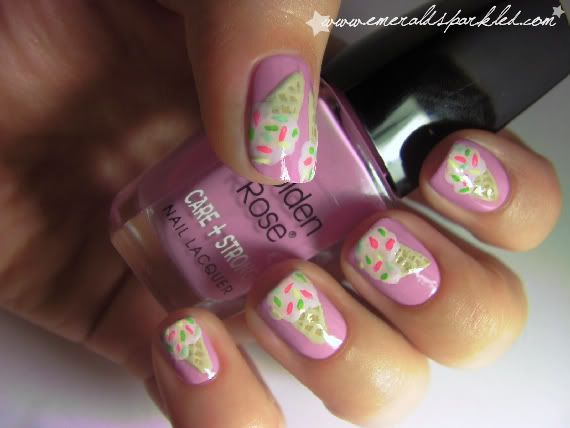 Hand Drawn Ice Creams
Till next time, take care! =)
Şu an konsantre olmakta oldukça güçlük çekiyorum aslında, çünkü sağ kulağım ağrıyor, kendi hatam yüzünden dış kulak enfeksiyonu geçiriyorum. Bu yüzden bu yazı biraz çabuk ve detaysız olabilir, yazıp hemen yatağa ışınlanıyorum.
Bir süredir böyle dondurmalı bir manikür yapmak istiyordum, Pembe Çarşamba ile birleştireyim dedim. Tabanda Golden Rose Care & Strong #182 var, üstüne ince bir fırça ile dondurma külahları çizdim, sonra benek yapma aracı ile dondurma kısımlarını çizdim ve yine ince fırçayı kullanarak üzerine ufak şekerlemeler yaptım. Külah için American Apparel Trenchcoat ve California Trooper kullandım, Konad Pastel Purple ile dondurmayı yaptım ve şekerlemeler için değişik ojeler kullandım. Kusura bakmayın, şimdi gidip bakmaya çok üşeniyorum...
Bir dahaki yazıya kadar kendinize dikkat edin, ayrıca kulağınız kaşınsa bile parçalamaya lüzum yok aklınızda bulunsun =(