It's Friday, so it's only logical for me to post the Pink Wednesday manicure =D I've been feeling down in the last few days, and now I think I'm getting the flu again. Flu, please stop stalking me! What's up with you this year?
I had these three polishes standing side by side on my couch, and I liked them together so much that I used them all for my Pink Wednesday manicure.
I started off with 3 coats of
Essie Wife Goes On
. Then I drew blotches of
Pastel #85
with my dotting tool. Pastel #85 is the perfect cross between peach and salmon, it's so flattering on its own! Finally, I took out my fine brush and drew the highlights with the American Apparel Summer Peach franken I did.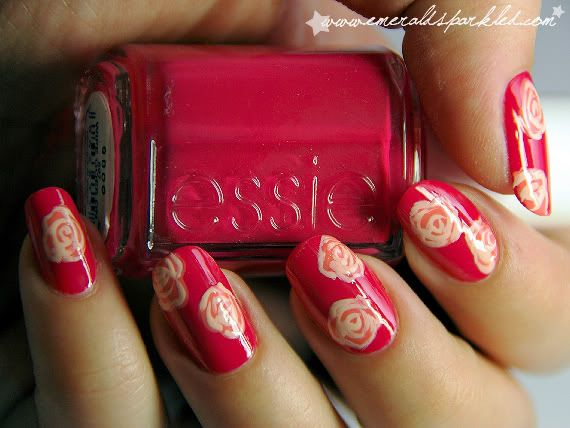 Essie Wife Goes On & Handdrawn Roses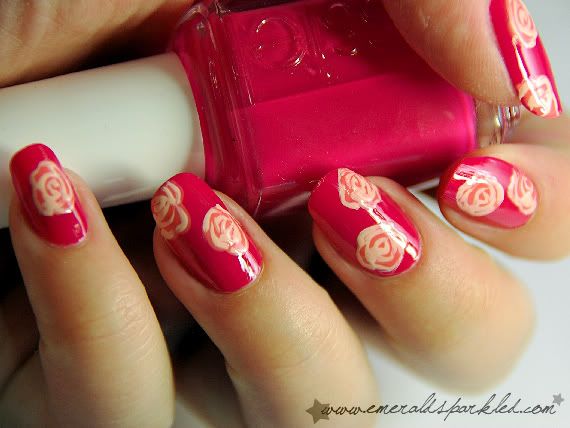 Essie Wife Goes On & Handdrawn Roses
That's all for today, I hope you like it!
Evet, günlerden Cuma olduğuna göre pembe çarşamba manikürünü yayınlayabilirim artık, çok mantıklı =D Şaka bir yana, son günlerde üzerimde bir halsizlik, kırıklık var diyordum ki; grip olmaya başladığımı farkettim. Grip, beni biraz rahat bıraksan diyorum artık?
Maniküre gelirsek, bu üç oje odamdaki koltukta yan yana duruyorlardı, böylece aklımı çeldiler ve üçünü de aynı manikürde kullanmaya karar verdim.
Zeminde 3 kat
Essie Wife Goes On
ile başladım, daha sonra
Pastel #85
ve benek yapma aracı (dotting tool) ile düzensiz şekiller çizdim. Pastel #85 tam şeftali ile somon arası bir renk, o kadar harika duruyor ki anlatamam. Son olarak ince bir fırça yardımıyla açık renkte çizgileri çizdim ve gül görünümünü elde ettim. Kullandığım oje ise
Dilek
'te orijinaline baka baka yaptığım, American Apparel Summer Peach'in aynısı olan oje.
Bugün biraz kısa oldu, hasta gibiyim, kusura bakmayın. Umarım beğenmişsinizdir =)