I decided to prepare a video tutorial about my
last manicure
. It's about the way I draw a simple rose of any size and color. It's actually quite simple, I hope you enjoy watching it =)
Today, I decided to apply a new color from the Flor Mar Supermatte series,
M126
. It's a purple leaning grey, without any hint of taupe. You can also describe it as a very dirty lilac. According to Wikipedia, this is

Rose Quartz
.
I chose
Rimmel London Rock Republic
as my stamping color. It's a dirty lilac metallic polish, which helped me to achieve this tone-on-tone look. I used the ornament-like design and the feathers from bm214.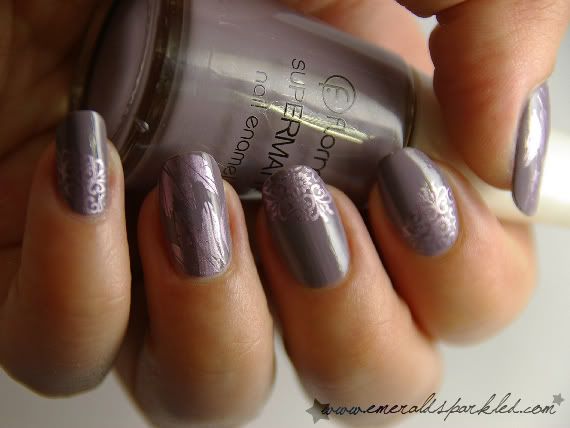 Flor Mar Supermatte M126 stamped with Rimmel London Rock Republic & BM214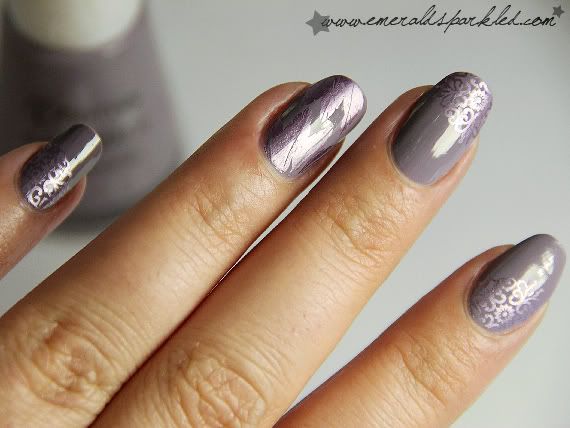 Flor Mar Supermatte M126 stamped with Rimmel London Rock Republic & BM214
Needless to say, I
love
the new Bundle Monster plates! I la-la-love them! =D
Dünkü manikürümle ilgili bir yapılış videosu hazırladım sizin için, umarım işinize yarar. Gül çizmek oldukça basit, yeterince ince bir fırça ve biraz pratikle rahatlıkla uygulayabilirsiniz. Umarım hoşunuza gider =)
Bugün Flor Mar Supermatte serisinden M126'yı sürmeye karar verdim. Mora çalan bir gri bu oje, çok kirli bir leylak rengi de diyebiliriz. Üzerine desen yapmak için ise Rimmel London Rock Republic'i seçtim. Bu oje de oldukça kirli bir leylak renginde, metalik bir oje. İki renk birbiriyle çok örtüştü, böylece sadece ışık altında belli olan, ilginç bir manikür ortaya çıktı =) bm214 diskindeki tüy desenini ve diğer süsleme desenini kullandım.
Yeni Bundle Monster diskleri gerçekten çok başarılı. Acayip beğendim, ne yapacağıma karar veremeden öyle bakıyorum =)