Hello my dear friends =) I did this manicure about a week ago, but I just didn't feel like posting it. I tried the
Double Lightning Bolt Tutorial
by
Nailside
, and I think it's neat for a first-timer =) By the way,
Nailside
has amazing tape manicure ideas, just like
Erika
. Be sure to check out both blogs, if you want to see some interesting manicure ideas that use scotch tape =)
For this manicure I first painted my nails with
Flor Mar N012
. It's a cross between neon pink/neon red. It's like a juicier version of China Glaze Pool Party. After it was dry, I taped off the bottom part and painted the upper part black. After the black dried completely, I taped off the bottom part again, this time a bit higher, and painted the topmost part with
China Glaze OMG
.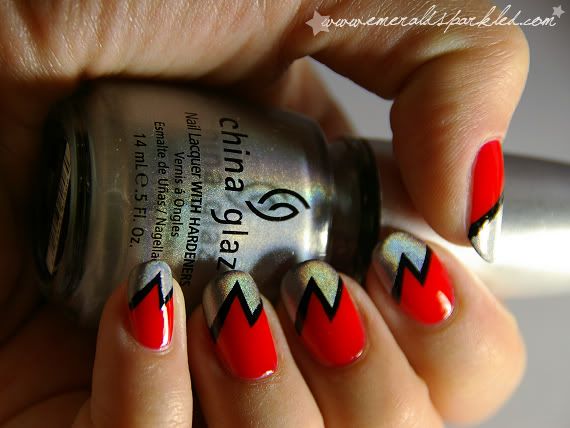 Double Lighting Bolt using Flor Mar N012, black & China Glaze OMG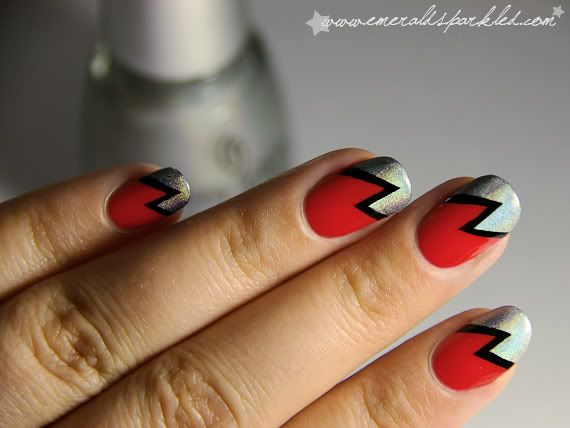 Double Lighting Bolt using Flor Mar N012, black & China Glaze OMG
By the way, we're having a nail polish ladies night tomorrow, over at my friend
Dilek
.
Basak
is coming over from Ankara, and we're going to paint each others nails & enjoy the polishes and the plates
Oyku
brought over from the US & handed over to her. =) Oh,
Nemo
and
Tansu
will join us, too. I wish Oyku would be with us as well... =/
That's all for today. I'm going to try to update tomorrow, until then, take care! =)
Merhaba sevgili arkadaşlarım =) Bu manikürü bir hafta kadar önce yapmıştım ama bir türlü yayınlamaya elim gitmedi nedense.
Burada
görebileceğiniz şekilde şimşek şeklinde bir manikür yaptım bant kullanarak. İlk sefer için fena olmadı aslında, yavaş yavaş öğreniyor gibiyim zaten. Bu arada
Nailside
blogunda bantla yapılan şahane manikürler bulabilirsiniz, tıpkı
Erika
'nın blogu gibi. Ben şahsen ikisini de çok seviyorum =)
Bu manikür için öncelikle tırnaklarımı
Flor Mar N012
ile boyadım. 3 kat kullandım, jel yapıda bir neon. Beyaz üzerine sürülmesi daha iyi olur ama benim biraz acelem vardı o yüzden normal sürdüm. Renk olarak neon pembe ile neon kırmızı arasında bir yerde. Kuruduktan sonra alt tarafını bantladım ve üst tarafa siyah oje sürdüm. Siyah da kuruduktan sonra biraz üstten tekrar bantladım ve en üste
China Glaze OMG
sürdüm.
Bu arada, yarın akşam oje yatısına gidiyorum. Yani ben,
Dilek
ve
Başak
, Dilek'te kalıyoruz.
Öyku
bizim için ojeler ve diskler taşıdı ABD'den, ve Ankara'da Başak'a teslim etti. =)
Nemo
ve
Tansu
da katılacak bize ayrıca. Keşke Öykü de gelebilseydi, ama gitmeden önce uğrama şansı var, bakalım =) Öykü, Ortaköy ve kumpir sözün var, unutma... =D
Bugünlük de bu kadar. Yarın toplu fotoğraf yollamaya çalışacağım, beklemede kalın! =)