I'm late for this week's Pink Wednesday again =) I'm sorry, I've been working late for the last two days.
Yesterday I hauled some Konad stuff. I wanted to try out some of the regular nail polishes, so I bought 7 of them.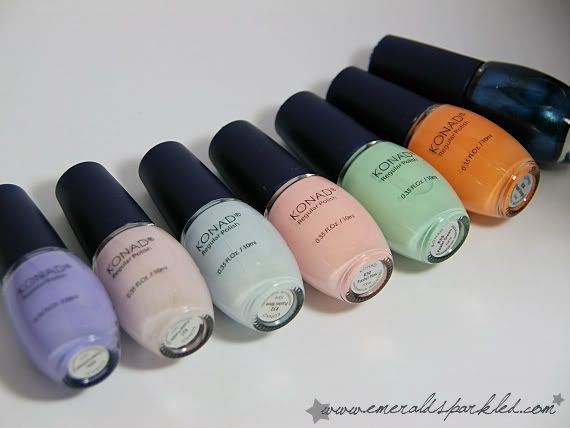 L-R: Pastel Lavender, Pastel Purple, Pastel Blue, Pastel Pink, Pastel Green, Pastel Orange, Summer Blue
I bought the new m82 & m83, and I also received Konad hand cream for review. It goes on very light and has a very pleasant mango scent, perfect for summer. I love it!
m82 & m83, Konad Mango Moisture
For my Pink Wednesday manicure, I started off with 3 coats of
Konad Pastel Pink
. I really like the consistency of the polishes, it's thick but not streaky. I needed one thin and two moderate coats to make it nice and smooth. The brush is very nice, too; although it's not flat, the application is very easy. These polishes are 10 ml (0.375 fl. oz.) and they retail for about $4.50 in my country.
Then I sponged
Rimmel London Instyle Coral
and
Flor Mar N012
on top of each other for the gradient look. Finally, I stamped the full nail design from m83 with konad special polish in black, to complete the look.
Konad Pastel Pink, Rimmel London Instyle Coral, Flor Mar N012 & m83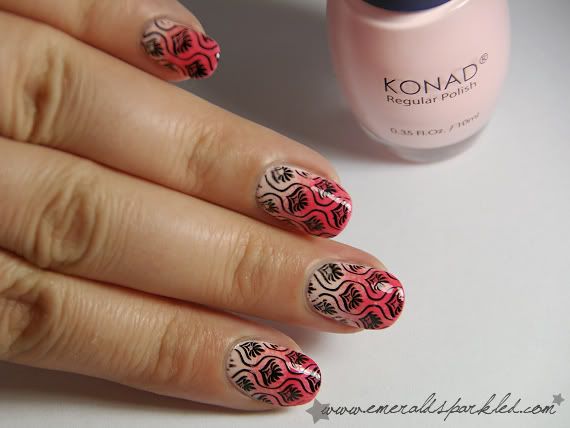 Konad Pastel Pink, Rimmel London Instyle Coral, Flor Mar N012 & m83
I think the new plates are adorable. Do you like them, too?
Bu hafta yine Pembe Çarşamba için bir gün geç kaldım =) İki gündür işten biraz geç çıkıyorum, özellikle dün çok yorgundum. Ara sıra gecikmeler oluyor böyle, kusura bakmayın =)
Dün biraz Konad malzemesi aldım. Öncelikle
Özgürce Pazarlama
'nın yeni getirdiği ojelerden denemek istiyordum, şimdilik 7 tane renk aldım. Resimde gördüğünüz renkler soldan sağa Pastel Lavender, Pastel Purple, Pastel Blue, Pastel Pink, Pastel Green, Pastel Orange ve Summer Blue.
Ayrıca yeni gelen m82 ve m83 disklerinden de aldım, bir de denemem için Konad Mango Moisture kreminden hediye ettiler. Bu krem gerçekten çok hafif yapılı, aynı zamanda inanılmaz güzel mango kokuyor, tam yazlık yani =) Birkaç denemeden sonra iyi bir el kremi olduğuna karar verdim, özellikle yaz için yağsız, hafif birşey arıyorsanız deneyebilirsiniz. Fiyatı 15 TL, sitelerinde yok sanırım ama mail ya da telefon ile iletişim kurarak sorabilirsiniz! =)
Gelelim Pembe Çarşamba manikürüne. Öncelikle 3 kat
Konad Pastel Pink
sürdüm. Ojelerin kıvamını tuttum, yapıları opak ama buna rağmen rahatlıkla çizgi bırakmadan sürülüyorlar. Ben bir ince ve iki orta kalınlıkta kat sürdüm. Fırçasını da beğendim, yassı yapıda değil ama oldukça gür ve yumuşak bir fırça, sürümü rahat. Bu ojelerin içeriği 10 ml ve 7.5 TL'den satılıyorlar. Ellerinde 60 adet renk var,
buradan
tüm renkleri görebilirsiniz.
Daha sonra ojenin üzerine
Rimmel London Instyle Coral
ve
Flor Mar N012
ojelerini sünger yardımıyla uyguladım. Son olarak m83 diskindeki deseni konad siyah oje ile damgaladım.
Bu arada konad ojeleri şart mı diye soruluyor bazen, şöyle söylemek gerekirse konad ojeleri olmadan yapamazsınız asla diye bir durum yok. Elbette açık bir rengin üzerinde koyu bir renk belli olacaktır, ancak konad ojeleri özel olarak damga için yapıldığından, şişede gördüğünüz rengi tırnakta elde etmek istiyorsanız, özellikle sarı, açık pembe, kırmızı, beyaz, siyah gibi renklerde konad ojeleri kullanmanızı tavsiye ederim. Şu an konad beyaz ve siyah ojesinin aynı netlikte tırnağa çıkan bir alternatifi yok. Bunun dışında tabi elinizdeki ojeleri de deneyebilirsiniz, ama normal ojeler o kadar ince bir tabaka halindeyken çok çabuk kuruduğundan, özellikle yeni başlayan biriyseniz çok zorlanabilirsiniz, çünkü damgaya tam çıkmış bir desen siz damgayi uygualamdan once biraz bile oyalanırsanız çoktan kuruyarak tırnağınıza yarım yamalak çıkabiliyor. Ben ilk başlarken siyah, beyaz, kırmızı ve sarı damga ojeleri almıştım. İyileştikçe farklı ojeler de denemeye başladım ama en başarılı sonuçlar konad özel ojeleri ile elde ediliyor. O yüzden "ojeye gerek yok" diye düşünmeyin. Tüm renklerini almak zorunda değilsiniz zaten, ama mutlaka birkaç renk konad ojesi bulundurun.
Ben yeni diskleri çok beğendim, hatta almayacağımı düşündüğüm m82 diskini de aldım balıklar ve ortadaki çiçek için =) Umarım siz de beğenmişsinizdir.