Hello my nail polish loving friends =) For this Wednesday I thought about this manicure, involving some milk chocolate, bitter chocolate and strawberry cream. I alternated the fingers using two local brand polishes,
Alix Avien #170
(index & ring) and
Flor Mar #76
(the rest). I don't know how well you can see the difference, but Alix Avien is significantly darker and neutral, not as warm as the other. Both polishes have a very nice formula, they're smooth and creamy and opaque in two coats. Then I mixed two pinks to create the "strawberry cream" and used the larger side of my dotting tool to trace the dipped part & fill in. I added a drop of water to thin the acrylic paint, I think it's necessary because acrylic paint can be a bit thick and streaky when used straight out of the tube.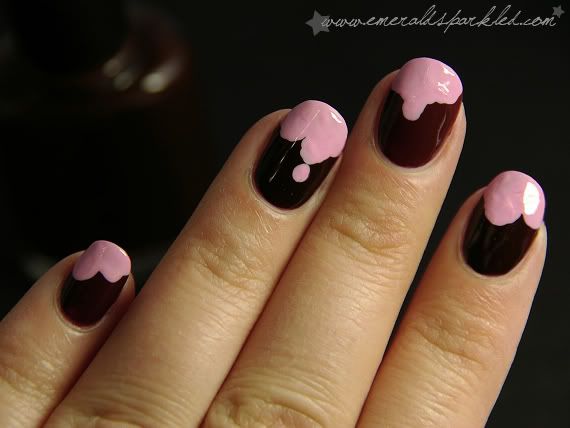 Alix Avien #170 & Flor Mar #76, Acrylic Paint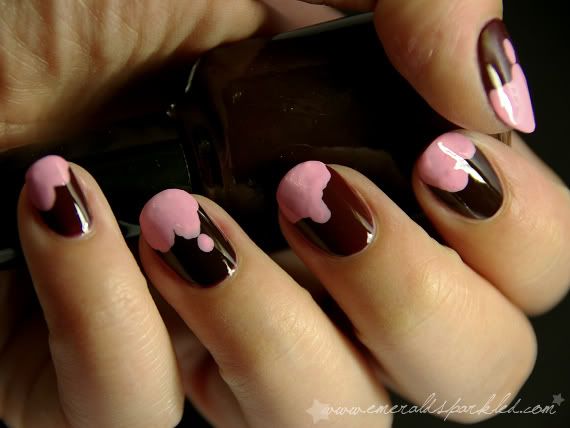 Alix Avien #170 & Flor Mar #76, Acrylic Paint
Yum yum yum! =)
As you might have noticed, I shortened my nails about 2 millimeters. My right thumb was held together with super glue, and yesterday it finally gave in. I was scared of breaking a nail horribly anyway, since they've gotten so long. I'll be growing them and then shortening them about a millimeter or so, to protect the length I like.
Have a very Pink Wednesday! =)
Merhaba oje sever arkadaşlarım =) Bu Çarşamba için siyah çikolata, sütlü çikolata ve çilekli krema içeren bir manikür düşündüm. Tırnaklarıma iki tane ojeyi değiştirerek sürdüm, Alix Avien #170 (işaret & yüzük) ve Flor Mar #76 (kalanlarına). Ne kadar farklı oldukları anlaşılıyor mu bilmiyorum, ama Alix Avien biraz daha koyu ve diğeri kadar sıcak tonlu değil. İki ojenin de formülü oldukça güzel, iki katta opak oluyorlar ve sürümleri gayet düzgün. Daha sonra çilek kreması efektini yapmak için akrilik boyalardan iki tane pembe olanını karıştırdım, nokta yapmak için kullandığım aletin büyük ucuyla şekli belirledim ve içini doldurdum. Akrilik boya karışımına bir damla su ekledim, çünkü bazen tüpten çıkan boya yeterince akışkan olmuyor ve pütürlü bir görünüm oluşuyor.
Bu arada fark ettiyseniz, tırnaklarımı 2 mm kadar kısalttım. Sağ elimin baş parmağı katlara ayrılmıştı ve ben de biraz japon yapıştırıcısı, buffer ve cila yardımıyla sabitlemiştim. Fakat dün sonunda tırnağım pes etti ve ben de hepsini biraz kısaltmak istedim. Kırılsalar çok canımı yakacakları bir boya gelmişlerdi, şimdi tekrar o boya uzatıp sonra biraz kısaltarak aynı boyu korumayı hedefliyorum.
Hepinize pembe bir Çarşamba diliyorum =)