Hey my dear friends =) Today I have another Flor Mar polish for you, the number #424.
#424
is basically a dead on dupe for Barry M Mint Green/MAC Peppermint Patti. The formula is very nice, it's somewhere between creme and jelly, and it's opaque in 2 coats.
I really liked
this manicure
of Emily at
Emily's Nail Files
, and I'm still amazed how she could fit all the pineapples so neatly! =D I added some ovals with
American Apparel McArthur Park
, then I stamped the pineapples from m29 using special polishes in black & green. And just because of her, I want to do a hibiscus manicure, too =D Please check out her blog, she's so creative! =D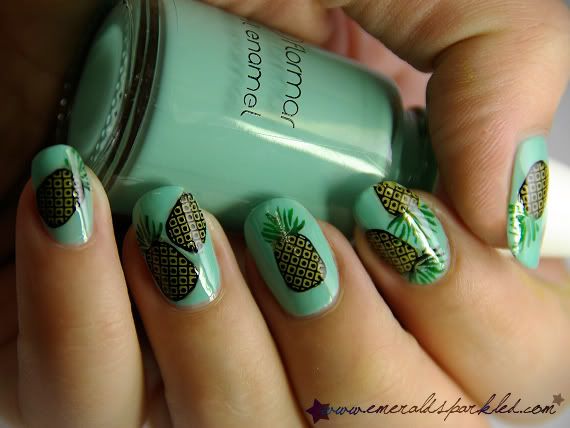 Flor Mar #424 & konad m29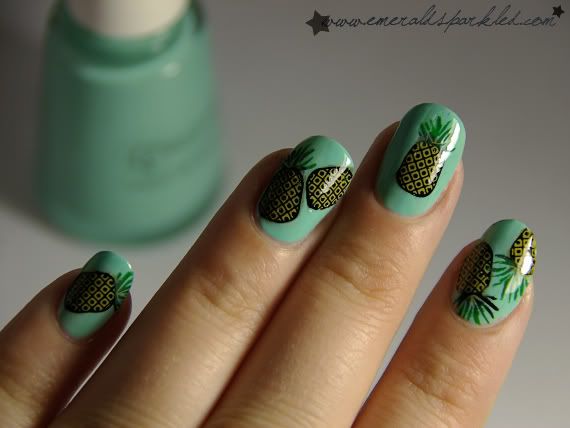 Flor Mar #424 & konad m29
I tried to do this as quickly as possible, because of that it's a bit messy. I'm going to align the images better next time.
I'm off to bed. Good night =)
Herkese merhaba =) Bugün yine bir Flor Mar ojesi ile karşınızdayım, numarası #424.
#424
iki sene önce çıkan Barry M Mint Green/MAC Peppermint Patti ojelerinin tamamen aynısı. O zamanlar nane yeşili patlamasını yaratan ojelerden bahsediyorum yani =) Flor Mar bence son birkaç ayda çıkardığı ojelerle en yakın rakiplerine yetişti ve hatta onları solladı. Alışılmadık renklerde ojelerin de sürüldüğünü farketmeleri beni sevindiriyor ve umutlandırıyor =)
Ojenin formülü iyi, krem ile jel arasında, 2 katta opak oluyor.
Şu manikürü
ilk gördüğümde çok beğenmiştim, sonunda bu oje üzerine uygulamaya karar verdim. Gerçi ben Emily kadar düzgün bir şekilde yerleştiremedim ananasları, o kısmı biraz amatörce oldu =) Damgadan önce
American Apparel McArthur Park
ile ovaller yaptım, daha sonra ise m29 diskindeki ananas desenini konad siyah ve yeşil ojeleri kullanarak damgaladım. Ve sanırım yine Emily yüzünden hibisküs manikürü de yapacağım bir ara =D Siz de Emily'nin bloguna bir göz atın, çok yaratıcı bence =)
Herkese iyi geceler!