C

L

O

S

E

D

!
The time has come. Here is my tiny but huge giveaway =)
I have to hurry this post, because I'm going to bed. Here is my thank you gift to all my followers, by-passers & total srangers! Thanks for being with me for 2 years! =))) Even if you've only visited once, or never commented before, it doesn't matter! This giveaway is for everyone who is reading this page =)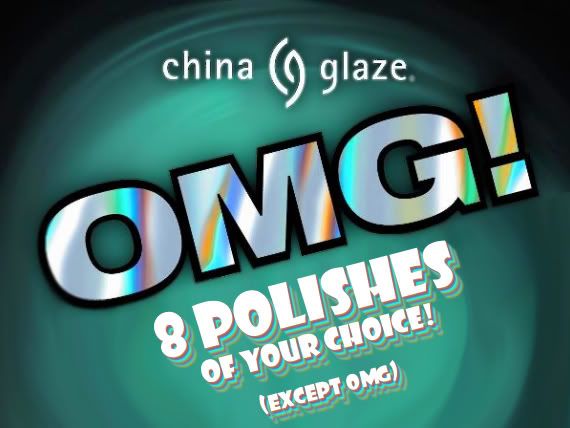 That's right, the OMG Collection! =) I have access to whole collection,
except for OMG
. I couldn't get my hands on it.
The winner will receive 8 Polishes of the OMG Collection, except for, well, OMG.
But I have both versions of
BFF
available, so it kinda makes up for it.
All I want you to do is:
Comment on this entry with your e-mail address & specify which 8 OMG Polishes you would love to have. (Please
exclude OMG
, and specify which version of
BFF
you'd like to have. You can also have both, if you want. I don't have the warm version of
BFF
,
you can see the difference here.
) Here are the reference pictures: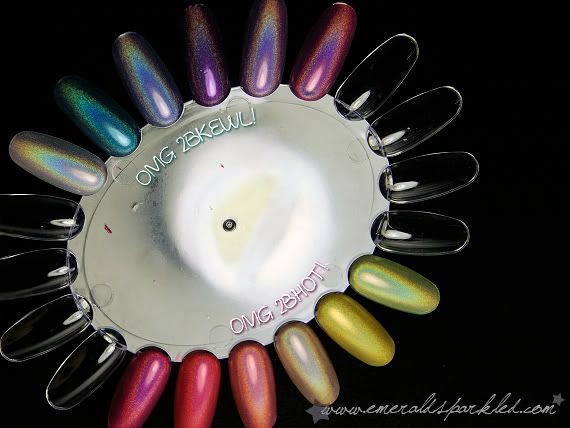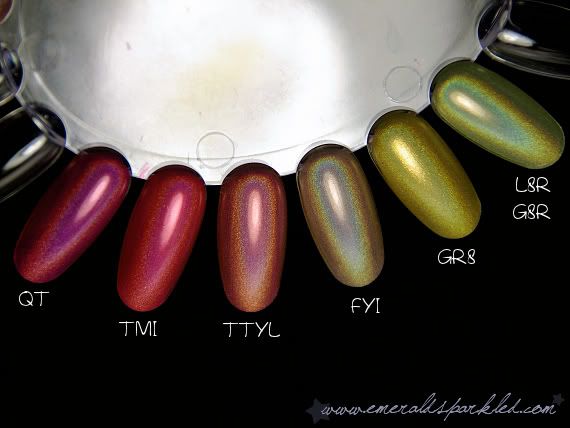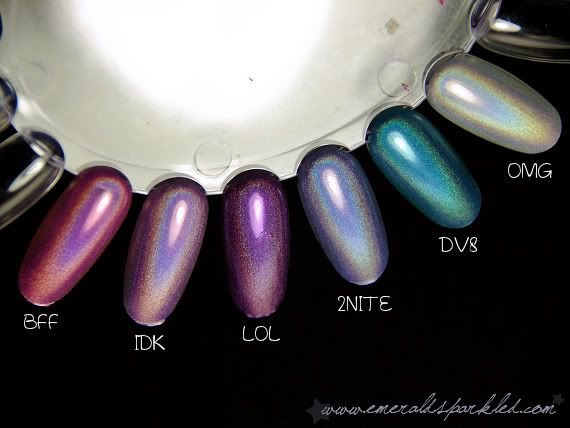 Deadline is
Dec 1st, 2011, 11:59 PM, GMT
.
Good luck, guys! =D
S

O

N

A

E

R

D

İ

!
Büyük an geldi. İşte size blogumun 2. doğumgünü çekilişi =) Biraz kısa bir yazı olacak, çünkü yatmam lazım. Çekilişe herkes katılabilir, takipçiler, geçerken uğrayanlar, ilk defa girenler... Bu ödül hepiniz için! İyi ki 2 yıldır yanımdasınız ve bir kez bile uğramış olsanız bile beni mutlu ettiniz =)
Ödül,
China Glaze OMG Koleksiyonu
'ndan 8 adet oje.
DenizRio
iş birliği ile gerçekleştirdiğim bu çekilişte kazanan, çok nadir bulunan China Glaze OMG koleksiyonu'ndan kendi seçeceği tam 8 ojeye sahip olabilecek =) Elimizde sadece
OMG
yok, ama
BFF
'nin iki farklı tonu var.
Sizden ricam:
Bu yazıya e-mail adresiniz ve koleksiyondan hangi 8 ojeyi istediğinize dair yorum bırakmanız.
(Tekrar etmiş oluyorum ama lütfen
OMG yazmayın
, çünkü elimizde yok. Ayrıca
BFF
istiyorsanız, hangi tonunu istediğinize dair bilgi verin. Resimdeki soğuk tonlu olan, sıcak tonlu olanın resmi elimde yok.
Şuradan farklarını görebilirsiniz.
) Diğer renkler için referans olarak verdiğim resimlerden faydalanabilirsiniz.
Katılımınız için son gün
1 Aralık 2011, 23:59'dur
.
Herkese bol şans! =D