My friend was staying over and she was swooning over some Smurf nails she found on the internet, so I decided to paint her some Smurf nails. I started off with 2 coats of
Gabrini Mirror Colors M08
, then I used acrylic paint and my customized tiny brush to create the characters. The whole thing took me about 3 hours, and in the end I was covered with acrylic paint =) I want to thank her for the patience, I personally wouldn't be able to sit through a manicure for 3 hours straight!
Here is the result: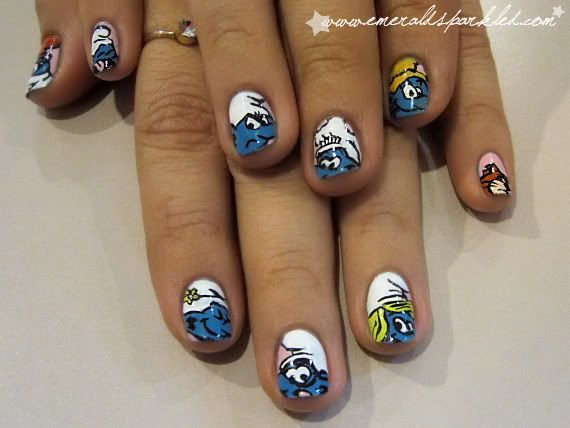 Smurf Nails!
Smurf Nails, Thumbs
L-R: Papa Smurf, Vanity Smurf, Brainy Smurf, Smurfette, Azrael, Baby Smurf, Grouchy Smurf, Baker Smurf, Farmer Smurf & Gargamel.
Today we had a small nail polish meeting.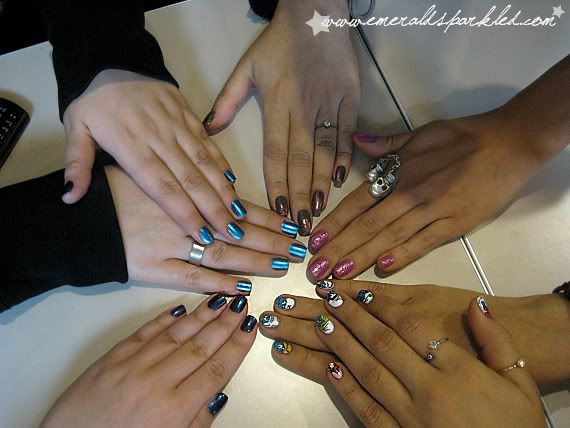 Clockwise from top: Dilek, Nemo Latte, Dilara, Basak & me.
I was wearing
Orly Sweet Peacock
. What a lovely polish!
Thank you for your amazing reaction to my last post! Have a great day!
Arkadaşım bizde kalıyordu dün akşam. Bana uzun bir zamandır Şirinler ile ilgili tırnaklardan bahsediyordu. Ben de gaza gelip: "Ben de sana yaparım!" dedim. Böylece başına oturduk. Tam 3 saat sürdü, kendisine sabrı için çok teşekkür ediyorum, ben dayanabilir miydim bilmiyorum. Önce 2 kat
Gabrini Mirror Colors M08
sürerek başladım, sonra akrilik boya ve kendi incelttiğim fırça ile karakterleri çizdim ve boyadım. En son bittiğinde her yerim boya olmuştu =) Ama uğraştığıma değdi.
Soldan Sağa:
Şirin Baba, Süslü Şirin, Gözlüklü Şirin, Şirine, Azman, Bebek Şirin, Somurtkan Şirin, Aşçı Şirin, Çiftçi Şirin & Gargamel.
Bu arada bugün oje bloggerları olarak buluştuk, arkadaşım Dilara da vardı.
Yukarıdan itibaren saat yönünde:
Dilek
,
Nemo Latte
, Dilara,
Başak
ve ben.
Tırnaklarımda
Orly Sweet Peacock
vardı. Muhteşem bir oje, çok çok mutluyum iyi ki almışım =)
Geçen yazıma gösterdiğiniz ilgi için teşekkür ederim! Görüşmek üzere!