Today is Day 8, and it's time for
M
E
T
A
L
L
I
C
nails!
I finally caved. I bought
Chanel Graphite
. I managed to walk around many Chanels by finding their exact dupes, but this time Chanel managed to blow me away when I was least expecting it. =)
I prepared myself for the Peridot hype, I even found some dupes, but I didn't like it as much as I expected. But Graphite is the hidden star of the bunch. When I first tried it on my nails in Sephora, I fell in love and I just had to have it.
Chanel Graphite
is a greenish gunmetal grey foil with gold particles here and there. The overall look is a warm medium grey foil. The different colored particles really give this polish an unique look. I received many compliments when I was wearing this yesterday. The following pictures are without a base or topcoat, and I experienced no chips and no tipwear for the two days I've been wearing this polish.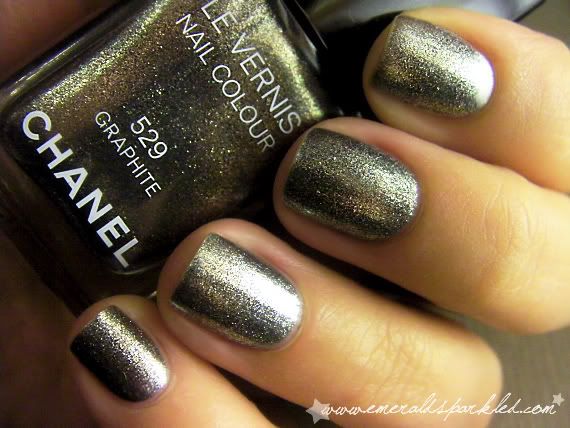 Chanel Graphite
Chanel Graphite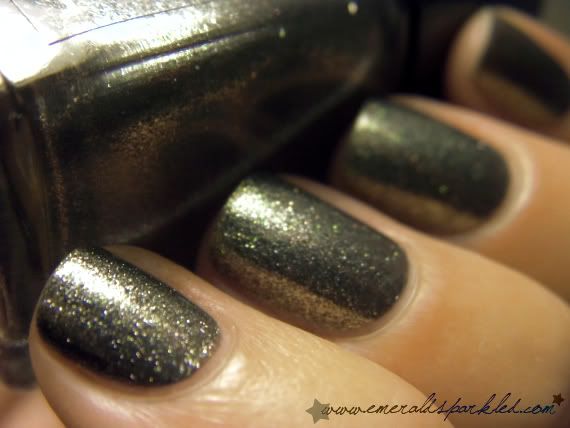 Chanel Graphite Close-Up
I couldn't quite capture the beauty, but you get the idea.
Oh, here is another thing I've got from Sephora. It's the new Too Faced Smokey Eye Palette. This palette is so awesome, it contains every eye shadow I would need for a day or night look. The quality is impressive, they blend very well and they go along so nicely together. For me, this is even more beautiful than the Urban Decay Naked Palette =) I know this is not polish related, but I haven't been buying make-up for a long time, and I felt so happy when I got my hands on such a gorgeous palette =)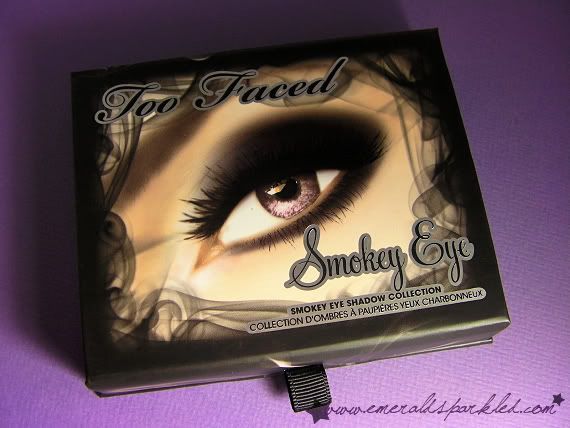 Too Faced Smokey Eye Palette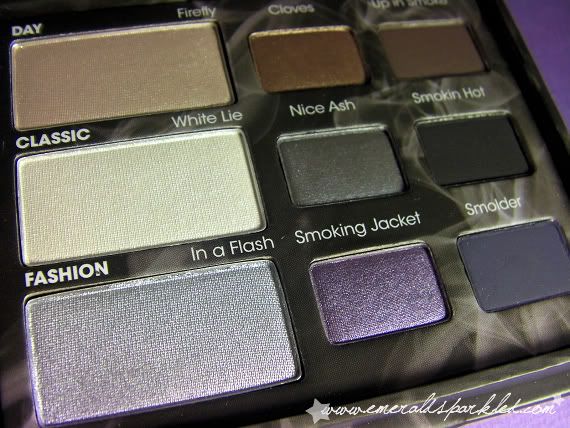 Too Faced Smokey Eye Palette
See you on Day 9!
Bugün 8. Gün ve

M

E

T

A

L

İ

K

tırnaklar ile karşınızdayım!

Sonunda pes ettim. Gittim ve

Chanel Graphite

'i aldım. Bugüne kadar birçok Chanel ojeyi bir şekilde almamayı başardım, çoğunun eşini ya da benzerini buldum. Ama Chanel hiç beklemediğim yerden attı golü =)

Ben aslında Peridot'a aşık olmayı beklemiştim, ama onun bire bir aynısını buldum hatta kendisini bile sürdüm ama beklediğim kadar beğenmedim. Bence Graphite Peridot'un gölgesinde kalsa da o koleksiyonun gizli yıldızı. Sephora'da onu tırnaklarıma ilk sürdüğüm an, ki

Dilek

şahit, "Aşık oldum!" dedim.

Chanel Graphite

hafif yeşilimsi tonlu, kurşun grisi bir folyo oje, içinde altın rengi ve başka renklerde parçacıklar var. Uzaktan görünümü sıcak tonlu kurşun grisi gibi bir şey oluyor böylece. İçerdiği altın rengi başta olmak üzere değişik renkte parçacıklar, bu ojeyi benzerlerinden ayırıyor. Dün çok sayıda iltifat aldım, gerçekten çok güzel duruyor tırnakta. Altına bir şey sürmedim, üstünde de cila yok; ancak tırnağımda durduğu iki gün boyunca ne soyulma, ne uçlardan aşınma, hiçbir problem yaşamadım.

Fotoğraflara ojenin güzelliği tam yansımasa da bir fikriniz olmuştur umarım.

Bu arada ojeyle ilgisi yok ama, Sephora'dan bir ürün daha aldım. Too Faced Smokey Eye diye yeni bir palet çıkarmış, eskisiyle alakası yok. Palette 9 far var, ve farların kalitesi inanılmaz. Yumuşaklıkları ve birbirilerine geçişleri çok başarılı, üstelik hem gündüz, hem gece makyajı tek bir palet ile yapılabilir, renk seçimleri inanılmaz hoşuma gitti. Uzun bir zamandır makyaj malzemesi almıyordum, çok hoş bir değişiklik oldu. Bence bu palet Urban Decay Naked'den bile güzel =)

9. Günde görüşmek üzere! =)