Welcome to the Day 3 of the 31 Day Challenge =) Today's theme is
YELLOW
nails. Today I'm going to share a polish that I fell in love with at first sight.
When I first saw
Bourjois Jaune Trendy
, my heart skipped a beat. This dirty, mustard yellow was calling my name. I really wanted to have a mustard yellow for last fall, and although a whole year has passed, I managed to get my hands on this little beauty.
I would describe this color as

Sunglow
, but it's actually more muted and has a little more green to it. Totally reminds me of Honey Mustard, which I LOVE.
Nathalie
, I'm sure you would love this one =)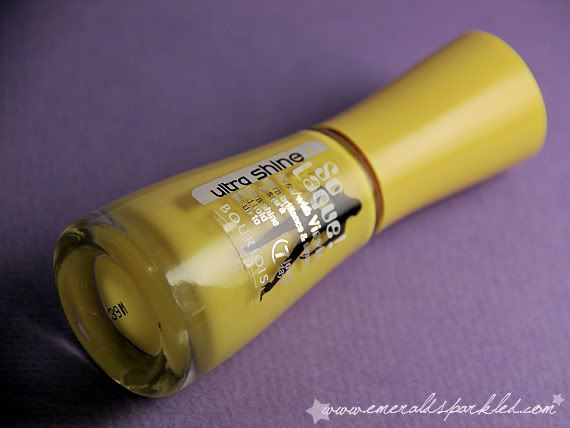 Bourjois Jaune Trendy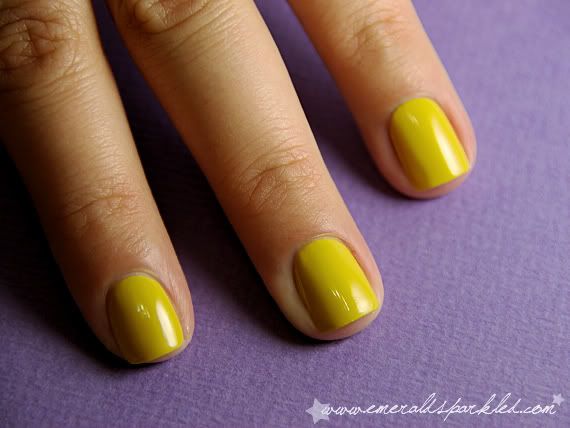 Bourjois Jaune Trendy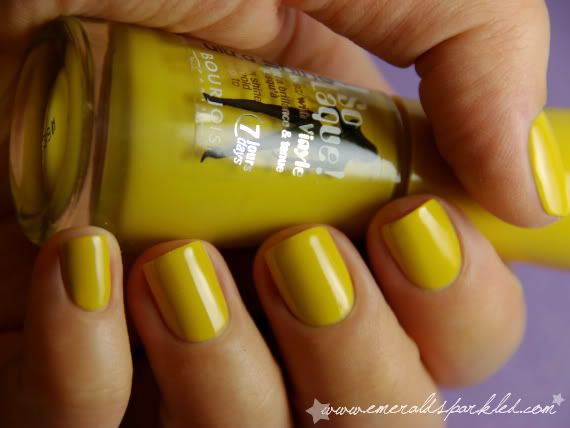 Bourjois Jaune Trendy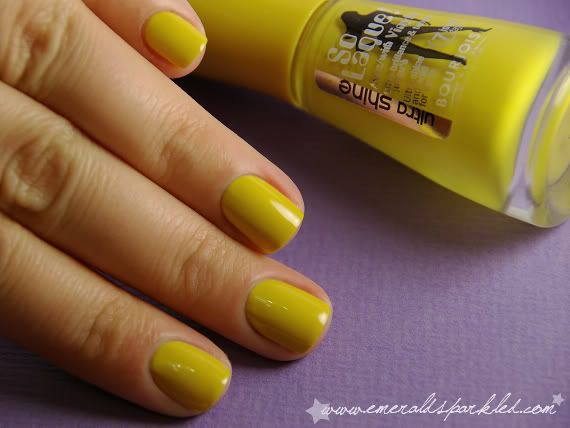 Bourjois Jaune Trendy
That was it for Day 3 =) This challenge actually motivated me to post more often, even if I'm crazy busy and short on time!
If you've realized, I have a Blogoversary button at the bottom of the sidebar. And today, it's showing 14. That means, only 14 days are left till my second Blog Anniversary =) I'm thinking about holding a nice giveaway (I'm still thinking about the details but it's going to be great.), but I've decided to spice things up a bit.
Emerald Sparkled is only 84 followers short of 3000. If my blog reaches 3000 till October 21st, I'm going to give another prize.
Emerald Sparkled Twitter is only 63 short of 1000 followers. If I get to 1000 on my Twitter till October 21st, there's gonna be another prize.
And finally, Emerald Sparkled Facebook Page is 215 short of 1000 followers. Although that idea is a bit far fetched, I'm going to prepare yet another prize for the giveaway, which will make it up to 4 sets of prizes! The giveaway is going to be open for everyone, there will be no such rules as "follow me here and there". I'm doing this because I'd love to see everything add up till my Blog Anniversary! =D
31 Manikür konseptinin 3. Gününde, size
SARI
bir manikür göstereceğim. Bu oje benim ilk görüşte aşık olduğum bir oje aslında.
Bourjois Jaune Trendy
'i ilk defa Antalya Migros AVM'de gördüm, o an şişeyi kavradım ve bir daha elimden bırakmadım =) (Tek kalmıştı.) Bu tarz kirli, hardal sarısı bir ojeyi geçen sonbaharda çok aramıştım, kısmet bir sene sonrasınaymış. Bana ballı hardalı anımsatıyor, ballı hardala bayılırım bu arada =) Burger King bir tek onu sos olarak çıkarmamış. Gıcıklar.
3. gün için de bu kadar =) Aslında bu olay benim daha sık oje sürmemi ve yazı yazmamı sağlıyor, üstelik fazla vaktim olmamasına rağmen. Başlamak isteyen dostlarım, arkası gelmez diye korkmayın. Kendiliğinden geliyor, çünkü çok eğlenceli =D
Bu arada blogumun 2. yıldönümüne sadece 14 gün kaldı =) Çok hoş bir çekiliş yapmayı düşünüyorum (Detaylar belli değil ama gerçekten güzel bir şey olacak.), ama olayları biraz da renklendirmeye karar verdim.
Emerald Sparkled blogunun 3000 izleyiciye ulaşmasına sadece 84 kişi kaldı. Eğer yıldönümü olan 21 Ekim tarihine kadar 3000 kişiye ulaşırsam, bir hediye daha vereceğim.
Emerald Sparkled Twitter hesabının 1000 kişiye ulaşmasına sadece 63 kişi kaldı. Eğer yıldönümü olan 21 Ekim tarihine kadar 1000 kişiye ulaşırsam, ilaveten bir hediye daha vereceğim.
Son olarak, Emerald Sparkled Facebook sayfasının 1000 kişiye ulaşmasına 215 kişi kaldı. Bu biraz uzak bir ihtimal bile olsa, eğer yıldönümü olan 21 Ekim tarihine kadar 1000 kişiye ulaşırsam, ilaveten bir hediye daha vereceğim, böylece toplam 4 set hediyeye sahip olma şansınız olacak! Çekiliş zamanı geldiğinde herkese açık olacak, takip etme zorunluluğu yok. Bunu yapma sebebim, yuvarlak sayıları seviyor olmam. Geçen seneki gibi (O zaman 1000 kişide olmuştu) dönüm noktalarının blog yıldönümüne gelmesini arzu ediyorum =D