Hello guys =) I've been a close follower of the 31 Day Challenge that has been around for about a month, and it's one of the most inspiring challenges I've seen so far.
Rebecca
,
Sarah
and
That's So Fresh
had been doing such an awesome job; I just had to try this myself. Rules are very simple. You have to do a fresh manicure everyday for 31 days, according to the list below: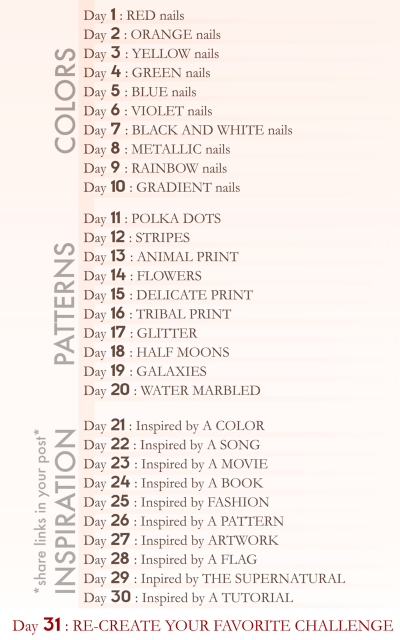 31 Day Challenge
This is such an inconvenient time for me to accept challenges, because right after having returned from vacation, I was offered DB Specialist position at Turkey's most important banks, Turkiye Is Bankasi. That was totally unexpected for me, and such great news at the same time. So I had to collect my documents and run around to do errands; finally starting work yesterday. But having a job doesn't mean I can't have fun with my nails. I only decided to bend the rules a bit, and post as often as I want.
So it's not going to be a 31 Day Challenge, but 31 Manicure Challenge.
I hope you accept me bending the rules a little bit =)
Day 1 is
RED
nails, and I wanted to turn heads with the red I've picked.
Adina from
A England
contacted me and asked me if I wanted to review some of their polishes. It was a great opportunity for me to try out
A England Perceval
, my biggest lemming from their current collection =) Adina sent me three polishes from the collection, including
Perceval
. I jumped in joy when I opened the package, they are so pretty! The lovely bottles! The colors! The finishes! I think I'm in love with A England =)
I'm going to review the other two colors in seperate posts, first up is Perceval.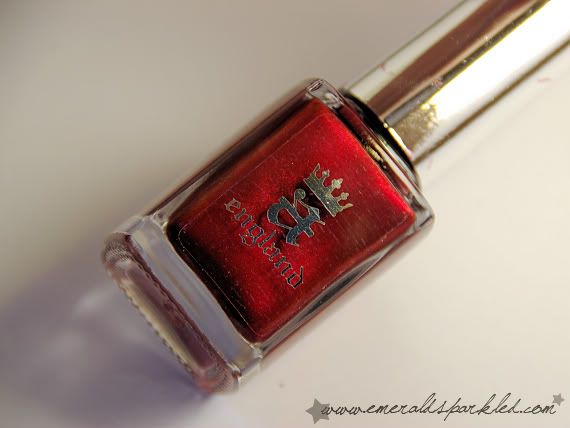 A England Perceval
A England Perceval
is a cool toned, darker than medium, metallic red. And boy, it's deep. It's deep, and sexy, and edgy. I can't find words to describe the prettiness of this polish. I just want to call it Percy and have its babies.
And the bottle... I really like the mirrored cap, the logo at front and the huge label on the back. The bottle feels expensive, and I love the square shape =) The brush is pretty nice, too. It's not wide, but it's soft and flexible.
Percy is also opaque in one coat, which means that it also works well as a stamping polish. But even if it didn't, it would still be the most awesome metallic/shimmery red in existence. Let the pictures steal your heart.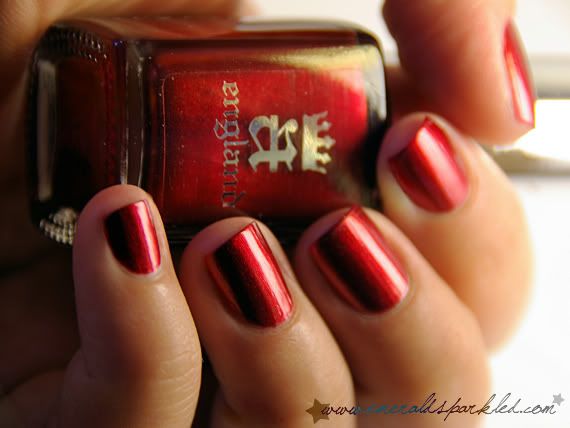 A England Perceval, Indirect Light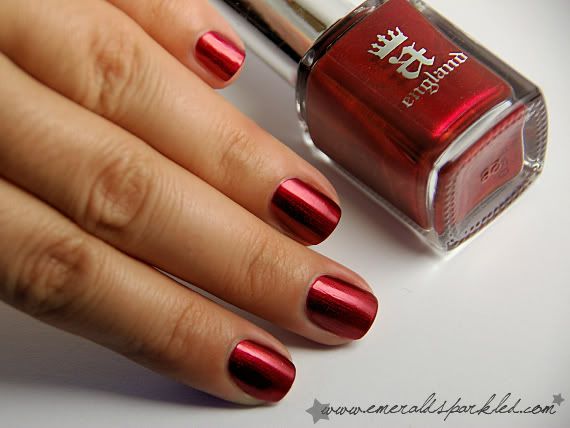 A England Perceval, Indirect Light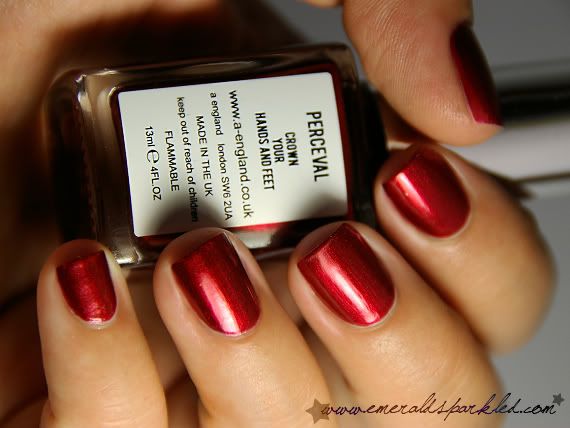 A England Perceval, Direct Light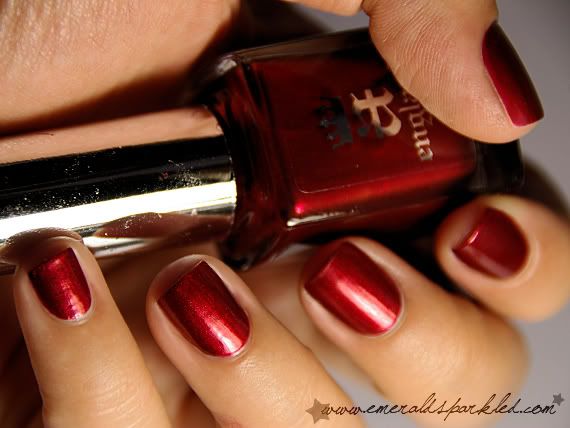 A England Perceval, Direct Light
With flash. Look at this prettiness!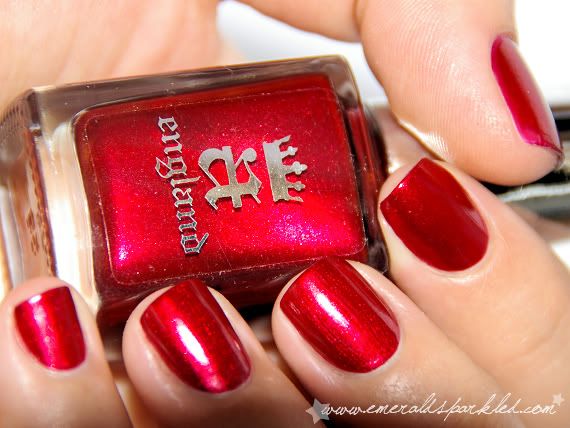 A England Perceval, Flash
It basically glows. I'm so in love with it. This has just entered the list of my top 20 polishes of all time.
A England polishes are available
here
. They cost £9.00 for 13 ml (0.4 fl. oz.).
*These products were sent to me for review.
Merhaba herkese =) Yaklaşık bir aydır sürmekte olan 31 Gün konseptini ben de denemek istedim. Bence çok ilham verici bir konsept. Listeye göre 31 gün boyunca 31 farklı manikür yapıyorsunuz.
Rebecca
,
Sarah
ve
That's So Fresh
süper işler çıkardılar, bloglarına bir göz atın derim =)
Aslında benim için o kadar ters bir zaman oldu ki... Birkaç hafta önce tatilden döner dönmez bir iş görüşmem oldu, ertesi gün Veritabanı Uzmanı olarak İş Bankası'na kabul edildim. Bu benim için büyük bir sürpriz ve mutluluk kaynağı oldu. Sonra belgeleri toplamak, sağa sola koşturmak derken dün işe başladım. Ama işe demek tırnaklarıma güzel bir şey yapmayacağım demek değil tabi. Ben sadece kuralları biraz esnetip, 31 günde bitirmek yerine mümkün olan en kısa sürede bitirmek şeklinde bir kural koydum kendime.
Bu yüzden benim için 31 gün; 31 Manikür olmuş oldu.
1. günün konsepti
KIRMIZI
tırnaklar, ben de tırnaklarıma bakanın dönüp bir daha bakacağı bir kırmızı seçtim.
A England
bir Birleşik Krallık markası, ve Adina benimle iletişime geçip bana birkaç oje gönderebileceğini söylediğinde çok mutlu oldum. Uzun zamandır istediğim
A England Perceval
'ı denemem için çok güzel bir fırsat oldu, koleksiyonlarında en beğendiğim renk Perceval =) Adina bana üç oje gönderdi, paketi açtığımda sevinçten uçtum, o kadar güzeller ki! Şişeler, renkler, ojelerin yapısı... Aşık etti beni kendine.
Diğer ojeleri ayrı yazılarda tanıtacağım, ilk önce Perceval.
A England Perceval
soğuk tonlu, ortanın daha koyusu, metalik bir kırmızı. Derin, seksi, çok farklı bir kırmızı oje. Bu ojenin güzelliğini tarif etmek için lügatımda yeterince kelime yok. Oje olsam bununla evlenirdim sanırım... =D
Şişesi harika. Ayna gibi parlak kapağını, logo dizaynını, arkadaki büyük etiketi, kare şişesini, her şeyini çok beğendim. Şişe gayet zengin duruyor. Fırçası da çok güzel, yumuşak ve esnek, sürmek çok rahat oldu.
Percy aynı zamanda tek katla opak oluyor, bu da demektir ki konad için uygun. Ama uygun olmasaydı bile, mevcut metalik kırmızılar arasında en güzeli olduğu gerçeği değişmeyecekti. Bırakın resimler kalbinizi çalsın.
Resmen içten içe yanıyormuş gibi. Çok seviyorum. En sevdiğim 20 oje listesine çok hızlı bir giriş yaptı.
A England ojeleri
buradan
satın alınabilir. Fiyatları 13 ml için £9.00. Kozmetik yasağı problem olabilir ama belki bir ya da iki ojeyle şansınızı deneyebilirsiniz... Ne yazık ki bu konuda hiçbirimiz kesin konuşamıyoruz =/
*Ojeler tanıtım amacıyla gönderilmiştir.