Today is Day 7, day of
BLACK &
WHITE
nails. I don't know about you, but whenever I think about black & white, I think about chess. I'm not a very good chess player, but I love chess. Whenever I lose, I learn something new.
I used the full checkerboard design from the Essence stamping plate. If you look closely, you can see that the board is indeed 8x8. That happened by chance =) I drew the Black Knight and the White King using acrylic paint & a fine brush. The jawline of the horse is just the white contour on black, but it looks like a gap in pictures and makes the neck appear very thin. That was not my intention, it didn't look like a gap in real life =)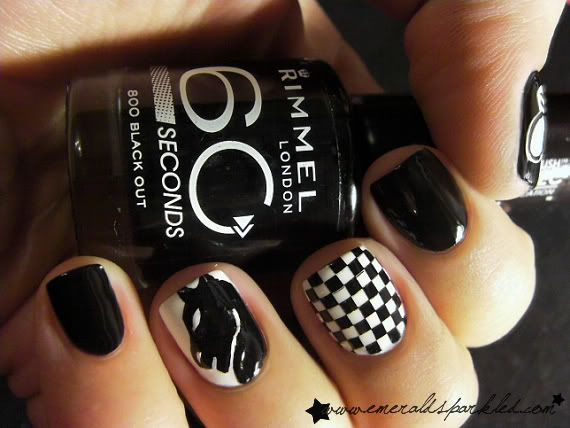 Chess Inspired Nails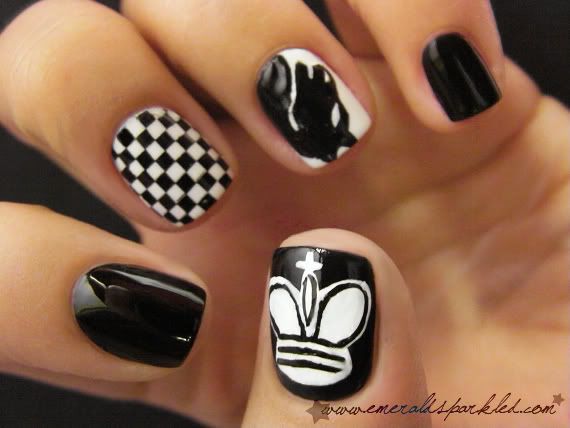 Chess Inspired Nails
By the way, here is my latest haul. I got these polishes today, first up there are some non-recent polishes: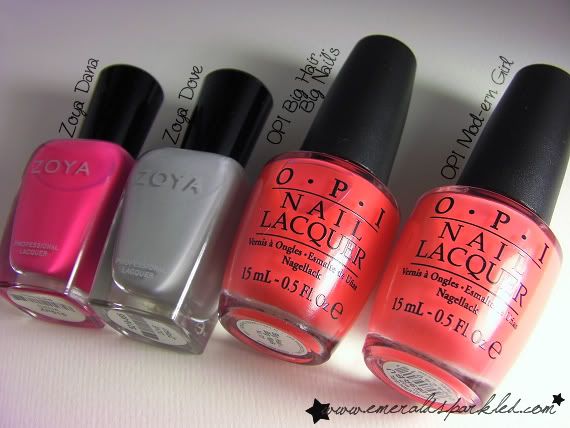 L-R: Zoya Dana, Zoya Dove, OPI Big Hair... Big Nails, OPI Mod-ern Girl
I also had to have these three polishes from the Touring America Collection: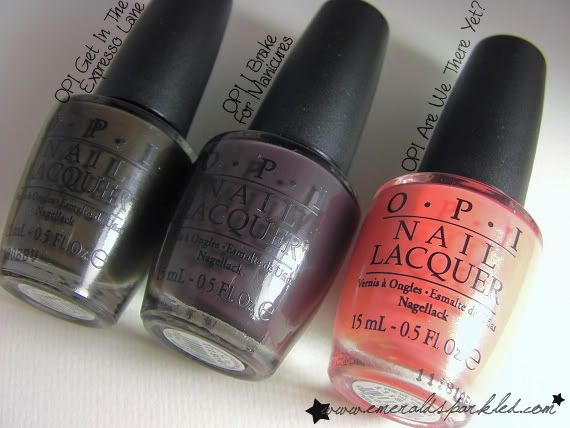 L-R: OPI Get In The Expresso Lane, OPI I Brake For Manicures, OPI Are We There Yet?
Finally, on my way back home I found these Orly polishes in my local drugstore, two are from the Birds of a Feather Collection, and one is from the Precious Collection.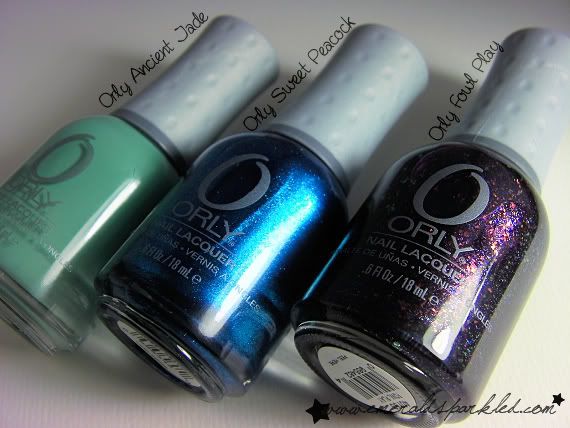 L-R: Orly Ancient Jade, Orly Sweet Peacock, Orly Fowl Play
Having missed out on OPI Merry Midnight, I'm in love with Fowl Play. It's so gorgeous, I can't even describe the beauty of this polish. Let this close-up picture do the talking: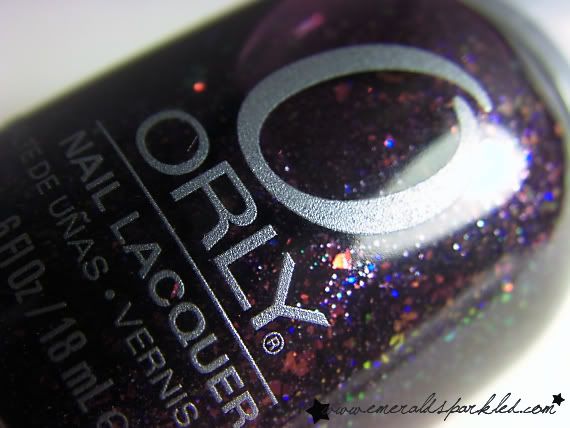 Orly Fowl Play Close-Up
That's all for today. See you on Day 8!
Bugün 7. gün, yani
SİYAH &
BEYAZ
manikür günü. Sizi bilmem ama ben ne zaman siyah beyaz bir konsept düşünsem, küçüklüğümden beri aklıma Satranç gelir. Bu kez ilginç bir şekilde aklımın ucundan bile geçmedi, ama arkadaşım Dilara "Aklıma satranç geldi" diyince hemen şimşek çaktı. İyi bir satranç oyuncusu değilim ama satranca bayılırım, her fırsatta oynarım ya da pratik yapmaya çalışırım. Birine her yenildiğimde de yeni bir şey öğreniliyor bence, o yüzden kaybetmek bile önemli ve gerekli satranç oynarken.
Öncelikle orta tırnağımda beyaz üzerine siyah konad ojesi ile Essence diskindeki dama desenini yaptım. Dikkat ederseniz tırnağımda desenin gerçekten 8x8 boyutunda olduğunu göreceksiniz. Bu tamamen tesadüf, ben de şaşırdım =) Daha sonra Siyah At ve Beyaz Şah'ı akrilik boya ve ince bir fırça kullanarak çizdim. Atın çenesinde siyah üzerine beyaz kontür var, ama sanki boynunu çok ince yapmışım gibi bir ilüzyon oluşturmuş resimlerde. Gerçekte böyle gözükmüyordu göze =)
Bu arada son aldığım ojeleri göstermek istiyorum. İlk resimdekiler,
Deniz Rio
'nun garaj satışından alındı. Deniz bir çok ojeyi şu an 10 TL gibi bir fiyata satıyor. Ayrıca başka makyaj malzemeleri de var. Mutlaka bir göz atın derim. Deniz çok dürüst bir satıcı, beraber çalıştığı kardeşleri de öyle. Üstelik yakın zamanda son izinleri de halledip yeni oje siparişlerine başlayacaklar. Ben defalarca alışveriş yaptım; saygılı, dürüst ve sıcakkanlı, üstelik çok da hızlılar ve işlerini sağlam yapıyorlar. Garaj satışlarında şu an Urban Decay, Too Faced, Stila gibi markaların ürünleri de 10 TL, 20 TL gibi komik fiyatlara satılıyor.
Garaj satışlarına buradan
,
Gitti Gidiyor sayfalarına buradan ulaşabilirsiniz
.
Benim seçtiğim ojeler
soldan sağa: Zoya Dana, Zoya Dove, OPI Big Hair... Big Nails, OPI Mod-ern Girl.
Ayrıca kendisi Touring America Koleksiyonu'ndan bir set getirmişti, ben içlerinden en çok istediğim üçünü aldım.
Soldan sağa: OPI Get In The Expresso Lane, OPI I Brake For Manicures, OPI Are We There Yet?
Sonra eve dönerken Cevahir eczanesine yeni Orly ojelerin geldiğini gördüm, Precious Koleksiyonu'ndan
Orly Ancient Jade
ve Birds of a Feather Koleksiyonu'ndan
Orly Sweet Peacock
ve
Orly Fowl Play
aldım.
Son resimde Fowl Play'in yakından görünüşünü görebilirsiniz. Kelimelerle tarif edemiyorum, muhteşem bir oje. Orly ojelere biraz zam gelmiş, yeni fiyatları 22,5 TL.
Bugünlük de bu kadar, 8. günde görüşmek üzere!