Hello guys =) Here is a very quick post before I go to bed. Thank you for your amazing reactions to my first post, I'm really happy that you're eager to see what I'm going to do =)
Day 2 is
ORANGE
nails. For this day I picked
P2 Electric
. Like all P2 polishes I've tried so far, this one is very opaque and smooth, with excellent, buttery application. It dried very shiny and was good in 2 coats.
I did daisy accents on my thumbs and ring fingers using acrylic paint. I used
this tutorial
by
Rina
as reference. Mine are nowhere as cute as hers, but I still like my cluttered daisies.
P2 Electric with accent nails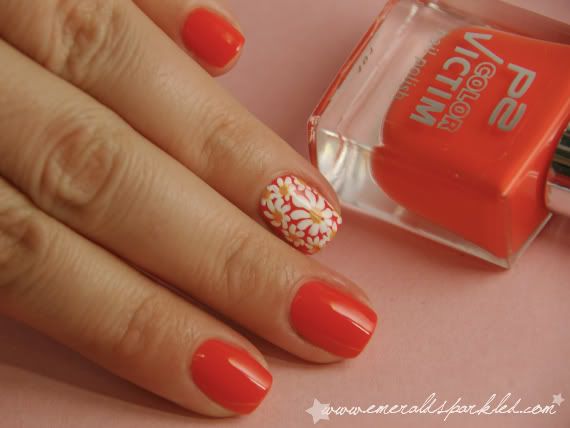 P2 Electric with accent nails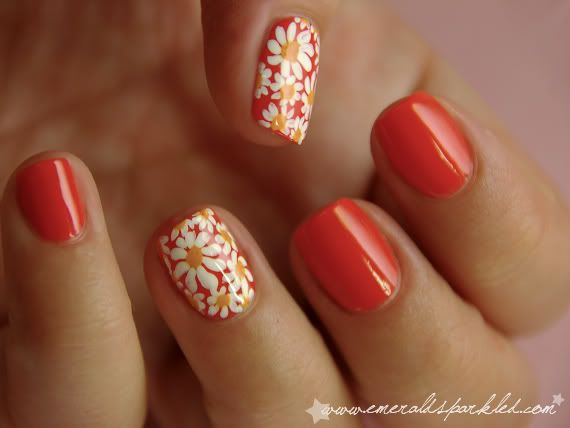 P2 Electric with accent nails
Have a great evening, everyone! =)
Selam =)Yatmadan önce hemen hızlıca ekliyorum bu yazıyı. Geçen yazıma yazdığınız yorumlar için teşekkür ederim, siz de buna katılın, yeni fikirler görmek çok güzel ve bilgilendirici oluyor =)
2. Gün için
TURUNCU
bir manikür yaptım. Oje olarak
P2 Electric
'de karar kıldım. Denediğim tüm P2 ojeleri gibi bu da oldukça opak, sürümü muhteşem bir oje. İki katta, çok çabuk ve parlak kurudu.
Daha sonra baş ve yüzük parmaklarıma akrilik boya ile papatyalar yaptım, yaparken de
Rina
'nın
bu videosundan
yararlandım. Benimkiler onun çiçekleri gibi tombiş ve sevimli olmadı, ama yine de kalabalık çiçek görüntüsünü beğendim.
Hepinize iyi geceler diliyorum ve yatıyorum, 6'da kalkmak çok zor!