I've been asked over and over to share pictures of my stash & nail polish organisation. I've been avoiding this request, because my room has been so chaotic for the past year that I never really found the energy to organize my stash in a way that it could set an example for anyone. My previous organization was something like:
Leave the polish you've just used on the desk.
Repeat until there is no more room on the desk.
Move to the bedside drawer/other table/top of the Helmer/couch(?).
Repeat until there is no more empty surface in your room.
Stuff the polishes back in the drawers you originally took them from so they disappear from view.
Go to Step 1.
Although I'm exaggerating here, I didn't feel like taking pictures of stuff all over the place. Now that I've been cleaning up my room for the past few days, I've also find time and energy to organize my polishes, nail art stuff & other supplies. Here are my stash pictures, which are a bit blurry because of the indoor lighting.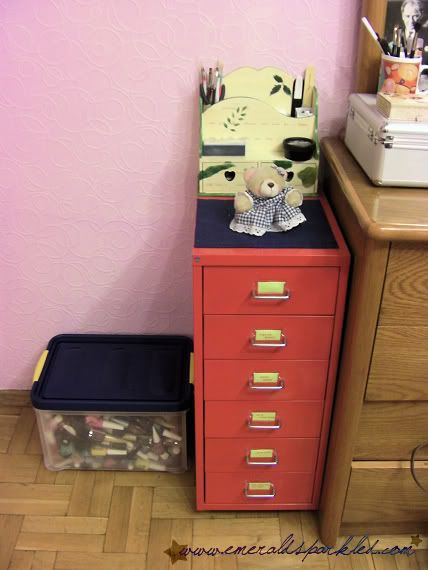 This is my Helmer, with a big plastic bin beside it. The top drawer is empty.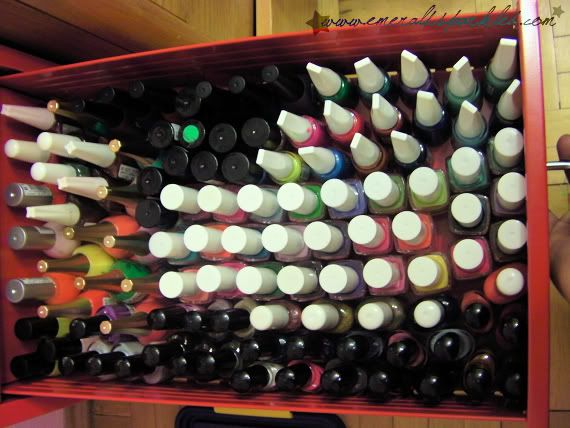 The second drawer contains local brand polishes, such as
Flor Mar
,
Alix Avien
,
Pastel
,
Gabrini
,
Claire's
(Made in Turkey),
Golden Rose
, etc.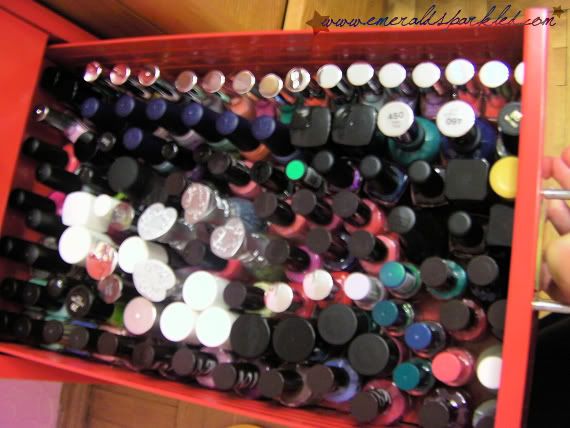 The third drawer contains various international polishes, such as
Essence
,
P2
,
Catrice
,
Barry M
,
Rimmel London
,
Nfu-Oh
,
Illamasqua
,
Sally Hansen
,
Konad
,
Kiko
, etc.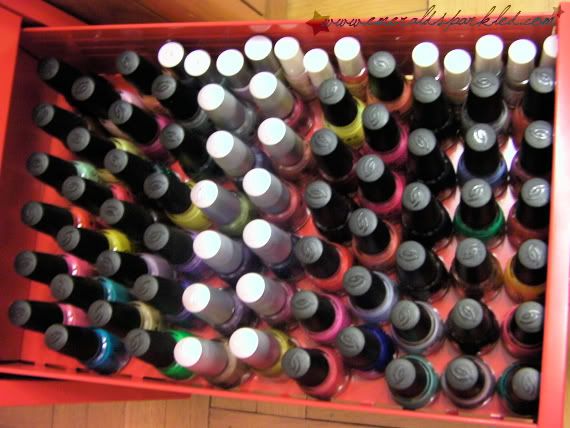 The fourth drawer contains
China Glaze
,
Eyeko
and
Essence Blossoms Etc.
polishes.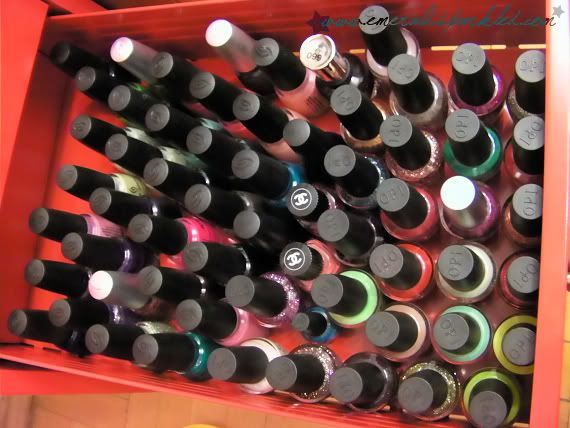 The fifth drawer contains
China Glaze
and
OPI
. I have a huge amount of China Glaze!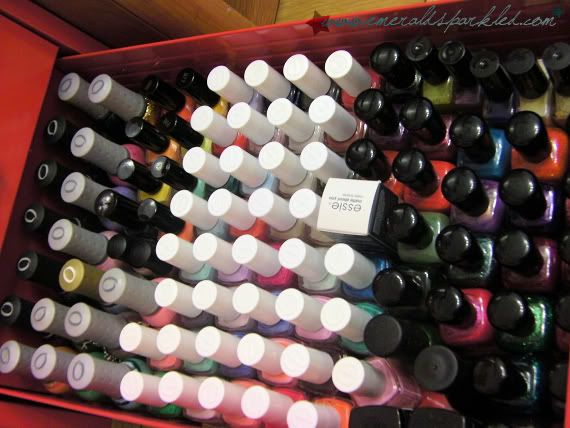 The last drawer contains
Orly
,
Essie
,
Zoya
,
Inglot
and
American Apparel
.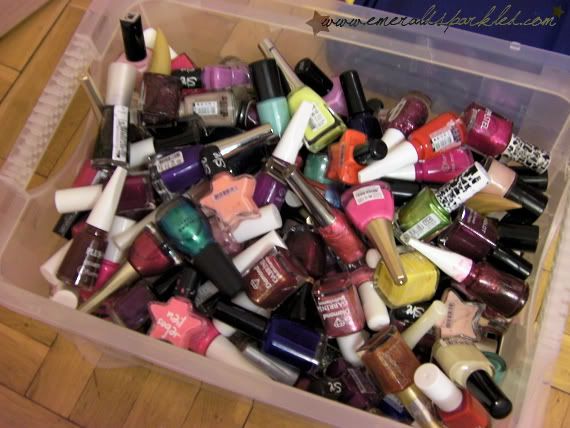 The contents of the plastic bin. These will be sorted if I ever get another Helmer. This looks chaotic but if I ever need something from here, I can find it with a little rummaging around.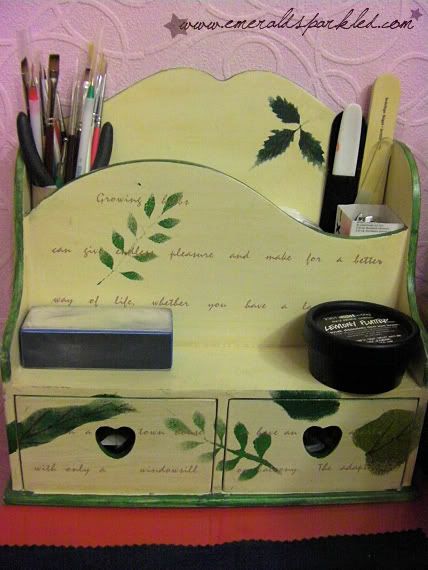 On the top of the Helmer, you can see this wooden box with tiny little drawers. It used to hold my postcards, library cards, etc. Now it serves the purpose to hold my nail art stuff.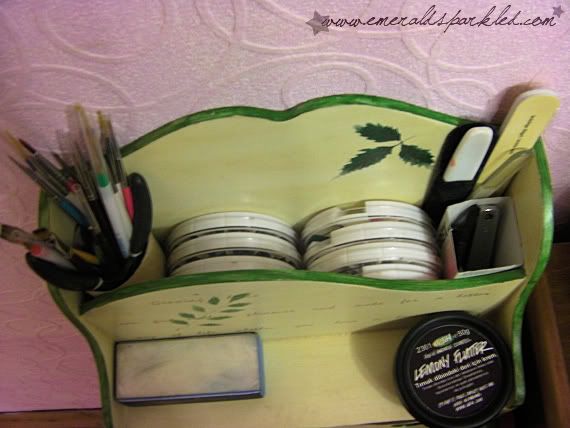 On the left, you can see my nail art brushes & clean-up brushes held together with the help of a toilet paper roll. The rhinestone wheels are in the middle and stuff like files, clippers & scissors are on the right. I used the little shelf to put on Lemony Flutter & a buffer block.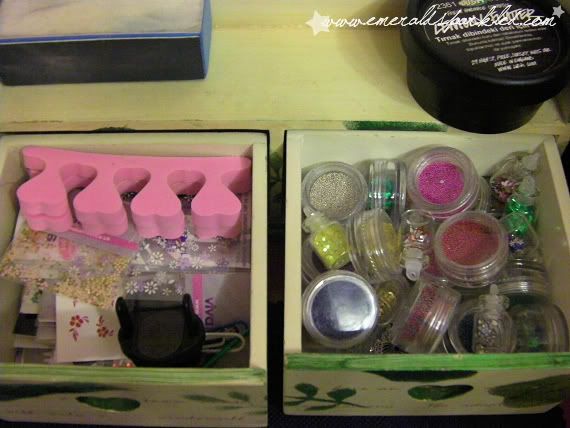 In the drawers I'm storing stuff like nail decals, bullion beads, hexagonal glitter, etc.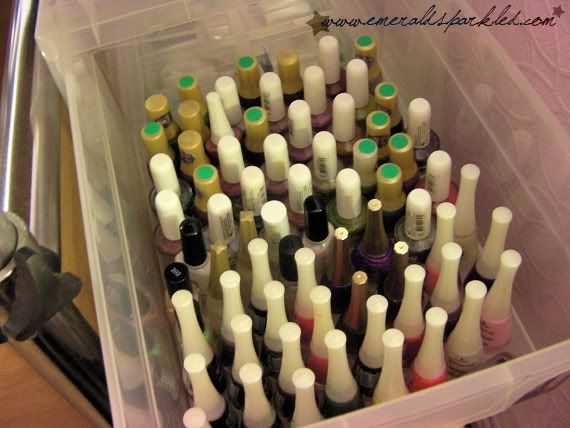 Then there is another plastic box like that, with three drawers.
First drawer contains all the
Catherine Arley
&
Booty
holographic polishes I own, plus some local brand polishes with sparkle finish.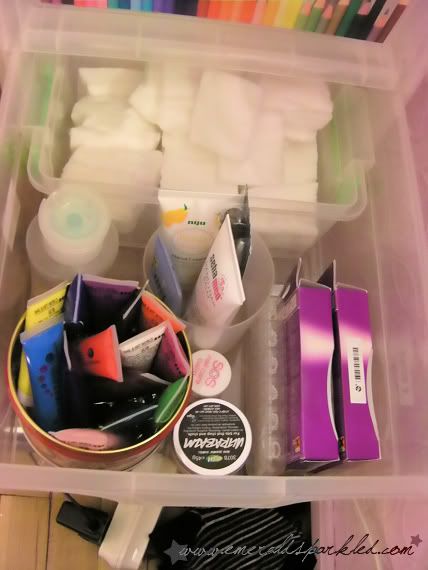 Second drawer: Cotton pads, acrylic paint, hand creams, polish remover with pump dispenser & false nails.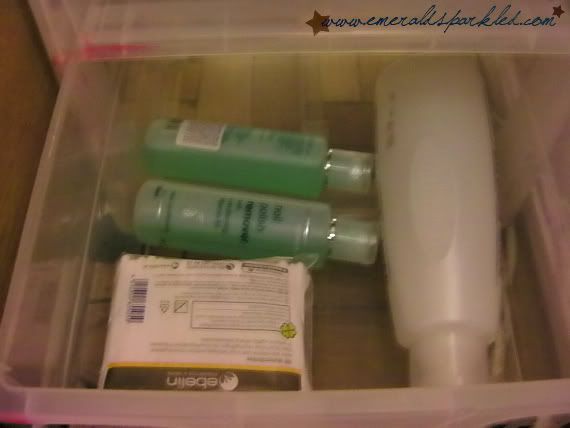 Third drawer: Acetone & Q-tip stash.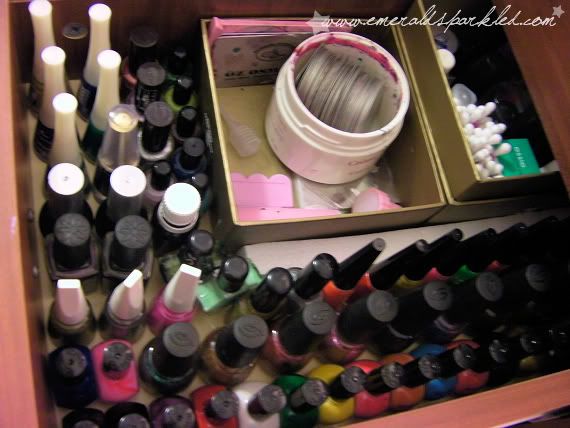 This is my Konad drawer. All stamping polishes (konad & non-konad), plates, stampers, scrapers; also nail care stuff like base coats & topcoats can be found here.
I used to store my plates in a credit card holder, but everytime I bought a new, it started to fall apart quickly because the plates cut through it. Now I'm storing them in an old creme container, which I also use for water marbling.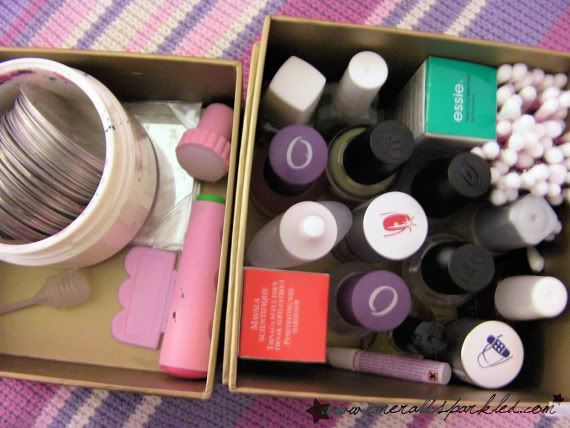 A closer look at konad & nail care stuff.
And that's all! I hope you enjoyed looking at my stash pictures. See you soon!
Bugüne kadar birçok kez ojelerimi nasıl organize ettiğimi paylaşmam rica edildi, fakat ben bu istekten biraz kaçtım çünkü son bir yıldır odam öylesine bir kaos halindeydi ki, örnek teşkil edecek bir yazı nasıl hazırlayabilirdim, düşünemiyordum bile. Odamı adam etmek için odama savaş açmam gerekiyordu, ve ben eşyalarımın odanın ortasında bir dağ oluşturacağı o dört-beş günlük hummalı oda toplama günlerini hep ileri tarihlere atıyordum. Bundan önceki organizasyonumu sorarsanız:
Az önce sürdüğün ojeyi masanın üstünde bırak.
Masanın üstünde yer kalmayıncaya kadar buna devam et.
Yer kalmadıysa komodinden/çalışma masasından/Helmer'in tepesinden/koltuktan(?) devam et.
Odada hiç boş yüzey kalmayıncaya kadar bunu tekrarla.
Ojeleri aldığın yerlere geri koy ki gözünün önünden kalksınlar.
1. Adıma geri dön.
Biraz abartıyor olsam bile yine de ojelerimin o halde resmini koymak istemiyordum. Ama şimdi birkaç gündür odamla boğuşurken ojelerimi ve diğer malzemelerimi düzenleyecek zaman ve enerji de buldum. İşte sizin için biraz bulanık da olsa tüm oje depomun resimleri.
Öncelikle en sık kullandığım ojelerin durduğu Helmer, ve yanında büyük plastik bir kutu. Helmer'in en üst çekmecesi şu an için boş.
İkinci çekmecede
Flor Mar
,
Alix Avien
,
Pastel
,
Gabrini
,
Claire's
,
Golden Rose
vs. var.
Üçüncü çekmecede çeşit çeşit markadan oje var. Örnek olarak
Essence
,
P2
,
Catrice
,
Barry M
,
Rimmel London
,
Nfu-Oh
,
Illamasqua
,
Sally Hansen
,
Konad
,
Kiko
vs.
Dördüncü çekmecede
China Glaze
,
Eyeko
ve
Essence Blossoms Etc.
ojeleri var.
Beşinci çekmecede
China Glaze
ve
OPI
var. Deli gibi China Glaze ojem var, farkındayım!
Son çekmecede ise
Orly
,
Essie
,
Zoya
,
Inglot
ve
American Apparel
bulunmakta.
Plastik kutunun içeriği. Bu ojeleri yerleştirmek için bana ikinci bir Helmer daha lazım. Biraz karmaşık gözükse de, aradığım bir şey olduğunda hemen bulabiliyorum, azıcık karıştırmak yetiyor.
Helmer'in üzerinde çok eskiden aldığım, minik çekmeceli ahşap bir kutu var. Düne kadar içinde kartpostallar, ıvır zıvır şeyler duruyordu. Şimdi tırnak süsleme malzemelerime ev sahipliği yapıyor. Sol tarafta desen fırçalarım, temizleme fırçalarım falan duruyor, tuvalet kağıdı rulosu sayesinde dağılmadan duruyorlar. Ortada renkli taşlar içeren çemberler var, sağ tarafa ise tırnak makasları, törpüler vs. yer alıyor. Önündeki küçük rafa Lemony Flutter ve buffer koydum. Küçük çekmecelerde ise yapıştırmalar, boncuklar, pullar vs. var.
Bir de Koçtaş'tan aldığım üçlü plastik ofis çekmecesi var.
İlk çekmecede
Catherine Arley
ve
Booty
holografik ojeler, ayrıca
Flor Mar
ve
Golden Rose
ışıltılı ojeler var. (Miracle ve Magic ojeleri)
İkinci çekmecede pamuklar, akrilik boyalar, el kremleri, pompalı aseton, takma tırnaklar var.
Üçüncü çekmecede ise yedek aseton ve pamuklu çubuklar duruyor.
Daha sonra gördüğünüz benim Konad çekmecem. Tüm baskı ojeleri (konad & ve konad olmayan), diskler, damgalar, sıyırıcılar; ayrıca baz ojeler ve cilalar burada bulunuyor.
Eskiden disklerimi bir kartlığın içinde saklardım, fakat ne zaman kartlık alsam bir süre sonra diskler yüzünden parçalanmaya başladı. Uğraşıp yerleştirdiğime değmiyordu. Ben de başka bir çözüm bulana kadar eski bir krem kutusunda saklıyorum disklerimi. Krem kutusunu aynı zamanda ebru yapmak için de kullanıyorum.
Hepsi bu kadar. Umarım hoşunuza gitmiştir =) Görüşmek üzere!