On Day 6, here I am with
VIOLET
nails! Purple/Violet is very pretty on other nails, just not on mine. I only truly love a few purple nail polishes, the ones I like are either dark, true purples like China Glaze Grape Pop, or very pale lilacs like China Glaze Light As Air. Since I don't really love purple on its own, I decided to create an abstract manicure inspired by semi-precious stones. I used two
Flor Mar Supershine Miracle Color
purples, and
Zoya Mimi
on top of
Pastel #309
.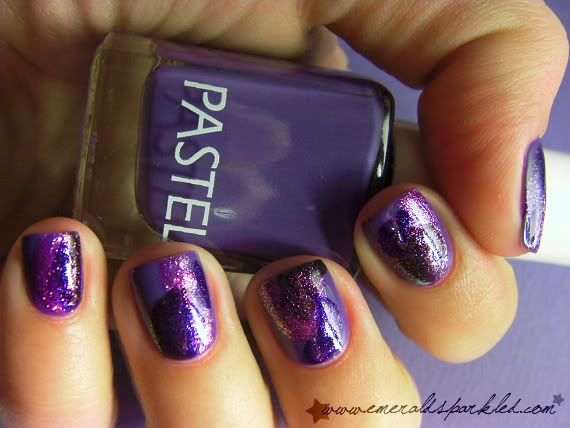 Abstract Violet Nails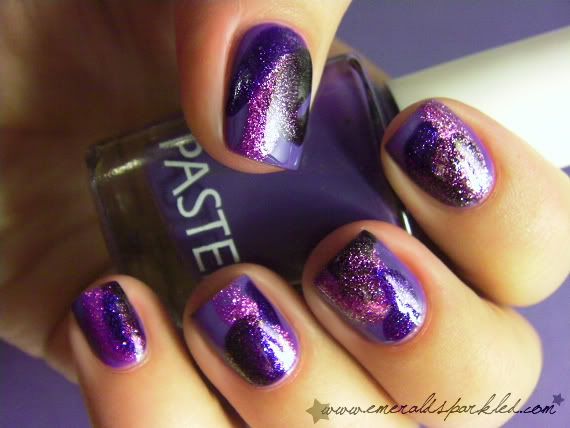 Abstract Violet Nails
Now that I have a full-time job, I want a DSLR all for myself. What do you recommend for nail photography? I know most of the DSLR out there are pretty good with the landscape, but my main subject will be my nails, so I need one with superb macro capabilities & good saturation and contrast even when I'm taking pictures inside. Also, I need one that isn't too expensive. I'm thinking about either Canon 1000d or Nikon D3000. Are you using one of these cameras? How do you like your nail pictures taken with them? Please leave a comment with your recommendations, I'd really appreciate that =)
6. Gün karşınızda MOR tırnaklar! Mor ve menekşe renkleri çoğu insana çok yakışsa da ben kendimde pek beğenmiyorum. Mor bana çok arada kalmış bir renk gibi geliyor, hele düz olarak kullanmam çok zor. Sevdiğim morlar ya China Glaze Grape Pop ve daha koyusu olanlar, ya da China Glaze Light As Air gibi solgun, hafif pembeye ya da maviye çalan lilalar. Moru tek başına pek sevmediğim için, iki Flor Mar Supershine Miracle Color mor ojesi ve Zoya Mimi ile Pastel #309 üzerine soyut desenler yaptım. Aslında yarı değerli taşlara benzeyen bir görünüm vermek istedim tırnaklarıma.
Bu arada kendime bir DSLR makine almak istiyorum. Manzara resmi çekmek için evde dehşet sayıda makine var, tabi ki o konuda da iyi olan, ancak asıl özelliği çok kaliteli makro çeken ve az ışıkta bile doygunluğu ve karşıtlığı iyi olan bir makine arıyorum. Ayrıca çok da pahalı olmasın mümkünse. Canon 1000d ve Nikon D3000 arasında kaldım, başka önerisi olan var mı?